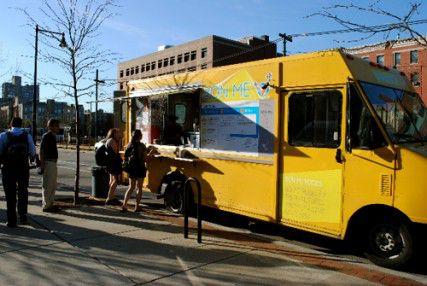 Five food trucks will open up for service in Brookline in the coming weeks, following a recent vote by Brookline's Board of Selectmen.
Selectmen chose food trucks Baja Taco Truck, Compliments, Paris Creperie, Pennypackers and Renula's Greek Kitchen to be a part of a six-month pilot program that will run from May to October.
Selectwoman and Chairwoman of the Brookline Town Hall Betsy DeWitt said a group comprising the chief development officer, the public health director, representatives from the Public Works Department and other community leaders created the criteria for the type of food trucks that they wanted to operate.
"The vendors applied and they were asked a number of questions including things like what sort of healthy food products they would be providing because we wanted healthy menus," DeWitt said.
After the food trucks were approved, they went through a series of health and fire inspections any traditional restaurant would go through.
DeWitt said she cannot predict how the food trucks will impact Brookline, but she hopes to see them increase the number of dining options for residents.
"They will certainly provide some lower-cost meals, and because of the review process, they should be quite healthy and they will add some variety to people's options," she said.
The food trucks will be located in four sites around Brookline and will include a spot on Boston University's campus at the corner of Commonwealth Avenue and Saint Mary's Street.
Renula's Greek Kitchen and Pennypackers will appear on the BU campus, she said.
Renula's Greek Kitchen
Raised on traditional Greek food, Philip Emmanuel, founder of Renula's Greek Kitchen, said he wanted to share his love, passion and culture with others to enjoy.
Five years ago, when his mother – who the food cart is named after – was diagnosed with cancer, she convinced Emmanuel, a master mechanic at the time, to be passionate about what he did.
After his mother died, he said, he realized he wanted to sell great-tasting, healthy Greek food.
"It's simple food. It tastes great and it's good for you. It is made with herbs, olive oil and lemon," he said. "There is no processed meat – everything is bought fresh from the butchers every few days."
He started his Greek food cart in 2011 in Needham, where it still operates. He operates on the Rose Fitzgerald Kennedy Greenway near the Federal Reserve Building and plans to have trucks in Cambridge, he said.
Renula's Greek Kitchen sells a range of Greek dishes, including dolmades and gyros starting at $3.
Emmanuel said he decided to start a food truck instead of a traditional restaurant because of the cost difference, adding that he wanted a small, intimate setting.
"It is a passion and I love it. I love talking to people. Sometimes we sing at the cart," he said. "Everyone leaves somewhat happy, and their hunger is satisfied, more importantly."
Pennypackers
Pennypackers, started by Ryan McGuire, operates under the supervision of three men.
A friend approached McGuire with an idea to start a restaurant, but after doing some research, McGuire said he found opening a restaurant would not have been financially possible at the time.
Instead, he started a food truck.
"I've worked in catering and in restaurants since I was about 17 and just kind of worked my way up through kitchens around town," he said, "working in as many restaurants as I could and learning along the way."
Pennypackers has been open for about nine months, operating on Tide Street in the Boston Marine Industrial Park in South Boston.
Pennypackers serves fresh, seasonal food with local ingredients, according to its website, specializing in traditional lunch foods, such as sandwiches and soups, with unique twists.
The menu, with prices up to $10, changes daily so customers do not become bored, McGuire said.
"We hope to be busy. Hopefully we can draw a lot of students – that would be ideal," he said. "Right now we only have three people working, but we will definitely need more. If anyone is looking for a job, call us, we are definitely hiring."