Boston University men's hockey coach Jack Parker doesn't shy away from the notion that losing Corey Trivino, Charlie Coyle and Max Nicastro mid-season hurt his team. From a depth perspective alone, any college hockey team would have a hard time replacing three players who saw as much ice time as those three did. The facts that Trivino was Hockey East's leading scorer at the time of his dismissal and that Coyle was a first-round NHL draft pick only compounded the loss.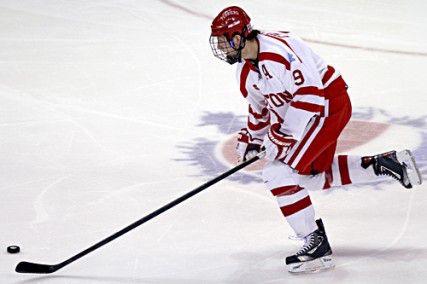 But in their absence, the Terriers kept scoring. For a time, they kept winning. The credit for that success should be distributed among a number of remaining BU players who made great strides this year, from sophomore defenseman Garrett Noonan putting up 16 goals to junior blueliner Sean Escobedo taking on increased responsibility on and off the ice.
As a junior assistant captain, Alex Chiasson provided an example of increased maturity as he grew into his role.
"The year before, he was pretty vocal in the dressing room as a sophomore because he knew he's an important guy and got a lot of ice time," Parker said. "But I think he realized he's got to approach it a little differently. He wanted to be more sensitive in his remarks to teammates. . . . I think he quieted the rhetoric down and did more with what he was doing, and what he was doing was playing the right way and playing hard and getting better. . . . When things got bad, he got better."
Chiasson finished the year with 46 points in 38 games. Parker said he had talked to Dallas Stars general manager Joe Nieuwendyk in the summer prior to this season and knew there was a very good chance Chiasson would sign a pro contract with the Stars, who drafted him 38th overall in 2009, at the end of the year, which he did.
While Chiasson's development into one of Hockey East's top goal scorers was somewhat expected, Noonan's offensive explosion was perhaps the most welcomed surprises the Terriers had this season. As a freshman, he had four goals and showed a tendency to jump into the play, and even Parker said he was surprised by what Noonan achieved this year.
"He's way ahead of where we thought he'd be," Parker said. "If you take him down the left wing and let him come down, it's amazing how many times he can hit the net pipe and put the puck by the goalie, when we get guys who are supposed to be big-time goal scorers that can't do it as well as he can do it."
Although Noonan raised his profile as a Nashville Predators prospect with his performance this year, Parker said he doesn't expect to see him turn pro over the summer.
"He's not as well-rounded as we would like him to be, and he's not as well-rounded as he would like to be," Parker said. "If he was much better defensively, he wouldn't be here."
Junior forward Wade Megan became another somewhat unexpected source of offense with his 20 tallies, more than doubling his goal total of eight from the previous year.
"We expected him and recruited him to be a goal scorer," Parker said. "I was disappointed that he didn't get more his sophomore year. But he really flowered and grew into it this year."
Parker said he expects Noonan and Megan to act as team leaders next year, joining Escobedo – among others – to form a strong group of experienced upperclassmen.
"He became a very, very solid player," Parker said of Escobedo. "Very, very noticeable to the coaching staff. Not as noticeable to the fans."
Escobedo ranked second on the team with 58 blocked shots (after Noonan's 61), and although he was a minus-7 on the year, that may speak more to the fact that he was often trusted to match up against other teams' top lines than anything.
"He's a decent offensive defenseman, but he's more of an NHL stay-at-home-and-play-defense type of defenseman," Parker said. "He might have a better chance to play in the NHL than some other guys because they need that type of player more than they need the offensive, puck-moving defensemen."
After picking up two major penalties and two game misconducts as a sophomore, Escobedo did not record a penalty of either type as a junior, though he still racked up 60 penalty minutes on the year.
"He grew up a lot on the ice and off the ice," Parker said. "He's got a kind of happy-go-lucky, class clown type of attitude, and sometimes it's a distraction to his teammates. We talked to him about that and I think he's learned that he's got to be who he is too, because he has to get ready a certain way, but he wants to make sure he's not a distraction either.
"It was always important to him, but sometimes it didn't look that important to him the way he conducted himself, so I think he's realized that he has to have a more serious approach so that he doesn't make it look like this isn't that important."
Although Parker had no shortage of praise for senior captain Chris Connolly, he acknowledged that this year's senior class wasn't on par with, for example, the one that brought home a national championship in 2009. Next season's Terriers will rely heavily on rising juniors and seniors like Noonan, Clendening, Escobedo and forward Matt Nieto, but they will also need this year's freshmen to blossom into productive sophomores.
Parker said redshirt freshman Yasin Cissé, who missed two potential seasons of eligibility with injuries, faced many of the same challenges throughout the year as a true freshman would. Forwards Cissé, Evan Rodrigues and Cason Hohmann spent the season shifting between the second, third and fourth lines as circumstances – from injuries to departures – required.
"We kept moving guys around to see if we could get depth. I think Rodrigues probably settled in on that better than anybody," Parker said. "But Cissé was coming along and looking like a player, and then he got hurt again. He shows a lot of promise and Rodrigues shows a lot of promise. Hohmann shows a lot of promise. [Alexx] Privitera shows a lot of promise."
As a defenseman, and as part of a defense corps depleted by Nicastro's dismissal, Privitera was called on to step up more than his classmates. He'll take on a bigger role on the power play in particular next year, aiming to build on the four goals and 10 assists he put up this year.
Although he struggled defensively early in the season, Privitera appeared to have turned a corner by the time he scored the overtime game-winner on Feb. 25 in Vermont in his first weekend back from a broken wrist.
"He improved greatly in his defensive play in his own zone and his defensive play on the initial rush," Parker said. "He's going to have to get better at a number of things defensively, but he's already made big strides that way. I think if he works harder, he gets more prepared this season than a year ago because he knows what's coming, he knows what's expected and he also knows he's going to be depended on, [he'll] play an awful lot of minutes."