Like many hockey teams, the Boston University men's hockey team has had issues in the past with individual discipline off the ice, but the 2011-12 season featured two extreme cases of misbehaving players.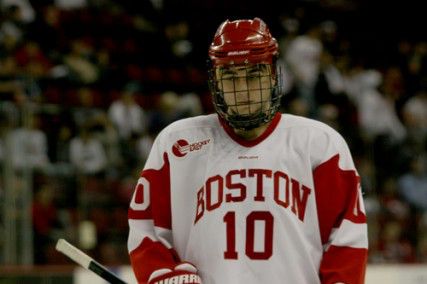 Forward Corey Trivino and defenseman Max Nicastro were both arrested within 10 weeks of each other for separate cases of alleged sexual assault on campus. Trivino had the most serious charge against him, assault with intent to rape, dropped in a March 22 court date. He still faces six other charges – three counts of indecent assault and battery and three counts of breaking and entering – and pled not guilty to all of them. Trivino is scheduled to appear in court again April 27.
Nicastro is still facing two charges of rape and also pled not guilty to all charges. His next scheduled court date is May 7.
BU coach Jack Parker said that although each case appears to be an isolated incident, the team is operating under the assumption that the two arrests in one season were not a coincidence.
"We are not considering what happened this year as just a bad situation and coincidence," Parker said. "We are considering it as something we should look at and make sure and hope that it's a coincidence that we had two [arrests].
"We'll look at everything we have to do to cover the correct pages and make sure that these kids handle their situation as a BU hockey player differently than they're handling it. Or maybe they should handle it exactly the same, and this is an aberration. I know one thing for sure: This is not a BU hockey problem. This is not our culture, but I do believe drinking and rape charges and sexual assault and bad behavior permeates our society."
In light of the arrests, BU President Robert Brown created a task force to investigate the culture of the team to see if anything needs to be done to prevent this type of behavior in the future.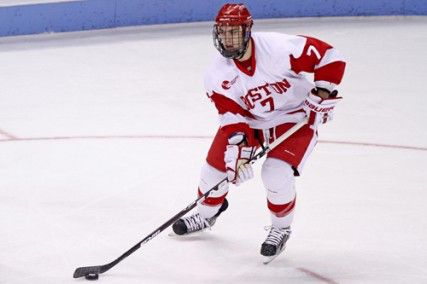 Parker supported the creation of the task force, but he said he is already looking into the way his team behaves to see for himself whether he needs to or will be able to make any changes.
"There's no sense in saying I'm sorry for that behavior if we don't stop the behavior," Parker said. "We'll find out more about what happened in those instances but I want to find out what happened elsewhere regarding my team. Those two instances are completely separate – what else goes on with my team compared to regular students on this campus? School-wise?
"It's not just how they act in a bar, and I'm sure the task force will come up with some suggestions too. But I do believe that the task force's job and our job are exactly the same, and we're way ahead of the task force right now, I'll tell you that. They may tell us, 'You have to do this,' and we can look at them and say 'I know, we've already done it.'"
Indeed, the team has already made some changes. In the aftermath of Nicastro's arrest on Feb. 19, the team adopted a new rule prohibiting them from drinking alcohol for the remainder of the season. Parker said he is researching whether a more permanent change in the team's alcohol policy would be beneficial in changing some of the players' behavior.
Traditionally, the hockey team is only allowed to drink one night a week during the season. That night is typically Saturday night, but the night sometimes changes if the Terriers have a game Sunday or are on a road trip Saturday nights. Parker said allowing his team to drink only one night a week may be too restrictive.
"We have very, very strict drinking rules compared to any team on this campus and any team in college sports I bet," Parker said. "Maybe that in and of itself is a problem. We can look at that. Maybe we shouldn't have a rule that says you can only go out on Saturday nights, because maybe they go out too hard on Saturday nights because they can't go out any other nights. . . . We will look at everything we're doing."
Parker said he has been monitoring the activities of the task force, including the task force's decision to hold open forums.
According to an email from task force co-chairmen Jonathan Cole and Jean Morrison, the open forums will be public meetings moderated by Dean of Students Kenneth Elmore in which members of the BU community can gather and offer their input on issues relevant to the culture of the hockey team. The first open forum was held on April 11, and the second will be held on April 23.
Parker said he understood the idea behind the open forums, but was skeptical of the value of the input the task force would receive from them.
"I can understand the rationale to want to let everybody know that we're sincere about this process and we're going to look into it," Parker said. "If they were calling people in and saying, 'Okay, take a number. Come in to the room where the task force is and tell us some information,' that's one thing.
"If you're calling 40 people in a room, this is going to be like talk radio. They will get some information in there, but they'll get much more worthwhile information from the other things they'll be doing."
The task force will be reporting its findings over the summer, according to an email from President Brown.
Parker said he is confident those findings will not reveal any serious issues with the players remaining on the team.
"They're going to talk to players, they're going to talk to people that the players know and interact with, such as fellow students, such as professors, such as other dorm students, other [resident assistants]," Parker said. "They want to get a feel for who these kids are, and I am confident that when they get a feel for who these kids are – I like who these kids are."