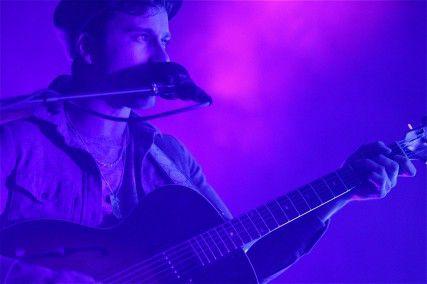 On Sunday night, Portugal. The Man brought their exhilarating live show to a packed House of Blues audience. Playing mostly cuts from their latest album—2010's In The Mountain, In The Cloud—the band drew from all over their career as well as in some quick covers of Beatles' classics—"Helter Skelter" and "Hey Jude."
Typical of any Portugal. The Man show, the set-design (an elaborate orb structure) awed and the band sounded better with each song. "Bellies Are Full," "Sleep Forever/Hey Jude," and the encore of "And I" were the perfect way to end the night.
Before the show, Daily Free Press Music Editor Lucien Flores was able to catch up with bassist and founding member, Zach Carothers.
Lucien Flores: The band's been releasing an album a year since 2006. As it it's almost the mid-point of the year, are there any plans for one to drop this year or are you thinking of releasing it in 2013?
Zach Carothers:  I'm not sure if we'll have one this year. We'll put out something. We started, but we're really going to take our time with this one and make sure we do it right. We have a couple opportunities that would be really good for us, but we have to push it back a little bit and, if we don't put out a record, we'll definitely put out a live DVD or an EP…we'll come out with something for sure this year. We'll have it done by the end of the year, but I'm not sure it will make it out in time.
LF: Have you been recording the shows to prepare for a live DVD?
ZC: We haven't actually. We recorded a few, but we're going to handle that when we get off tour. The tour is good for practice, you know?
LF: You had a few songs already recorded?
ZC: We've got some material that we've been working on. When you give us any amount of time, we usually tear apart all of our songs and completely redo them, which is what we'll do this summer. But I really like the start that we've got on it. It's very aggressive; it's the best thing we've ever done. It's going to be a lot of fun to play.
LF: Is it going to be quite different from the last album?
ZC: Oh yeah, for sure. We always try to mix it up a bit. I really like the direction that everything is heading.
LF: What have you been listening to that's influencing it?
ZC: I'm still in my early-90s kick. All the bands that really got me into playing rock & roll. I think there's a pretty heavy Nirvana influence and Pixies and all that stuff that I first found when I was a kid; the first stuff that I found on my own. It was kind of an amazing time, getting into stuff that my parents didn't show me or my older cousins didn't show me. I found Nirvana, The Beastie Boys and Rage Against the Machine and all that stuff, and that's what first got me into actually playing rock & roll. It will always have a spot in my heart.
LF: One of the more obvious changes in the last few months is that the band has had some shift in personnel. [Keyboardist Ryan Neighbors left to form Hustle & Drone].
ZC: I'm happy for him. I'm used to the guy a lot. Ryan was just such a great dude and so multitalented. He covers a lot of the stuff on our record. When we put strings or horns on our record, he's the guy that covers all the stuff live. He's just really good at that. But luckily, since we don't have Ryan, we got the best possible replacement we could ever ask for: we got Kyle O'Quin from Kay Kay and His Weathered Underground and Wild Orchid Children. Kyle has been a good friend for a long time. He recorded keys on Church Mouth (2007) and he toured with us a little bit after that so we've known him forever. So, it's not like a new hired gun or something like that, it's a good friend and he is amazing on keys. He is really, really incredible.
LF: Do you think we'll bring a new sound that's different for the key setup for the next album?
ZC: Oh, definitely. Every time we've had a different member come in, it's always cool. It adds a little bit of a different style…something that we wouldn't have thought of before or something that we couldn't physically pull off. He's very talented and he's been doing a great job with us so far.
LF: Is [drummer] Jason [Sechrist] still a member of the bad?
ZC: No, he actually left before Ryan, but he didn't want a big announcement or anything like that. He's more of a mysterious type, he wants to keep quiet. He left a while ago and we've since been through a couple of drummers. We're kind of in the middle of drummers right now. We're not really sure what we're going to do or where we're going to go right now. We're getting it covered by some friends and they're sounding cool. The drums are bringing a completely different style to the live show and I'm really excited to see what comes from the recording.
LF: By the time you've got the album out, do you think you'll have a new drummer selected or do you think you'll have a few different studio musicians or friends fill in for songs?
ZC: We're not really sure yet. We might cover a lot ourselves. A couple of the guys in the band play drums and I think we honestly might try it ourselves and see where it goes…maybe fly in some friends for a few different tracks. We're not really sure yet, we're going to see how things pan out.
LF: You're doing the Jagermeister Music Tour and this tour comes pretty soon after one of your recent headlining tours. How did it come about and was it weird going back on the road right away?
ZC: That's kind of what we always do. After this we've got a little bit of time off. We're doing a bunch of festivals this summer so it won't be hard touring. It's pretty much recording and then flying out for festivals. It's kind of what we do…we just tend to keep busy. We don't take too many days off.
LF: Is it true that you weren't planning to go on tour for a while and then this offer came up and it just sounded like a good thing to do?
ZC: We were planning on waiting a little while and recording more, but it was a good offer. Jagermeister has been really cool to us. They helped us out in Germany a long time ago when nobody knew who we were and they're trying to expand their market. They're known as a heavy-metal liquor and they want to break into different markets and we're trying to help them out with the indie people.
LF: Rolling Stone has you guys doing a photo blog of the tour. How'd that come about? Is it because you guys are known as that band that's really good with social media, Instagram, and all that stuff?
ZC: Yeah, I guess so. I'm the guy that takes all those pictures and I've been into photography since I was a kid and it's always been a hobby of mine. Everybody has a bunch of different roles in the band, but I'm pretty much the band photographer. They offered to spotlight a tour diary for us and I was really excited. It was the first time I really got anything published besides pictures I take for our band. All the photos on our CDs and stuff are all me. John's [Gourley] artwork is all over them so you can't really tell. I'm really excited, if I had more time, I would love to get into that. For the time being, it is only involving my band because that is all I do.
LF: If you were ever forced to take a year off of recording music, what do you think you would do?
ZC: Oh God, I have no idea. I would probably take pictures and fish. I really have no idea. Time off isn't really a concept we think about too much, just because it never comes about. I must say that the things I miss most are fishing and snowboarding. Obviously fly around and see friends and family that I never get to from being gone all the time. So I'd catch up with friends and fish with a lot of them.
LF: Do you know what number show the Boston one is?
ZC: I don't know off the top of my head. We've got to be getting close to 1,000 by now. I'm not sure. We build that tour archive that I'm really excited about. A few shows are missing so we're still fine tuning it. Before we got our manager, things were a little hectic. We were tour managing ourselves. Things were a little busy. We're still trying to remember everything we've done. It's been a lot.
LF: One cool thing about your manager is that he went to BU so he's always really nice to us.
ZC: He's an awesome guy. I think of him as a family member. I love that dude a lot. He's always been really good to us.
LF: How is the light setup compared to last years?
ZC: We're bringing the same, but we've added more to it. It's bigger and better now, but still kind of the same idea. We really like the all the orbs and I think those are really cool. He came out and made more for us and they're a little bit different. We reprogrammed so they can do more. So it's the same basic idea, just on a much better level.
LF: If you look at a Portugal. The Man concert from years ago, you see John wearing a hat and a hoodie and facing away from the audience. Now he's taken all that stuff off and he's dead straight in the center, just playing. Was it stage fright?
ZC: It kind of changes every night. He has gotten more comfortable and years of people telling him that the crowd wants to see him obviously. He grew up a very shy kid. He's been that way ever since I've known him. He really broke out of his shell a lot. Especially in this business, you got to meet a lot of people, you've got to talk to a lot of people. He's still pretty shy and some nights that he's not feeling comfortable, he'll put on a hat and a windbreaker or something like that, but he still faces the audience for most of the time. If he's not singing, his back's turned. He got a lot better at that.
LF: Do you remember your first show and what that was like?
ZC: I remember my first show as Portugal and my first show ever as a kid playing with my crappy high school band. The first show with Portugal was in 2005 and we were in Portland and we played this venue, which has been a bunch of venues over the years. I'm pretty sure it's called Frank's now. It was one of those big, stupid, mini festivals where there's like 12 local bands all day. It was a little scary. It was my first time playing without a drummer, because back when we first started we just had a drum machine. It was a little scary getting up there without a drummer, but I had been playing shows for a while so I didn't feel super nervous. We were vaguely prepared for it.