It is not uncommon for college hockey players to leave school early nowadays, bypassing their senior seasons to pursue a pro career.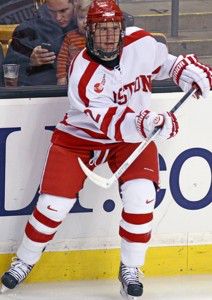 Boston University men's hockey senior defenseman Ryan Ruikka, however, will be doing just the opposite, as he will remain with the team for a fifth season next year.
Ruikka, who is known for his near-4.0 GPA and is working on a master's degree in economics after having already completed a dual bachelor's degree in economics and mathematics, has applied to become a graduate student and pursue a master's degree in economic finance.
"I think it will be good," Ruikka said. "I haven't learned any finance so I think it will be helpful for me."
A three-time Regina Eilberg Scholarship recipient as the top scholar-athlete on the men's hockey team, Ruikka redshirted his sophomore season after tearing his ACL and meniscus during a preseason workout, injuries that required season-ending knee surgery.
Thanks to Ruikka's redshirt season, he will be granted another season of eligibility by the NCAA.
During the 2011-12 season, Ruikka played 29 games and recorded five assists for the Terriers while blocking 23 shots.
As a result of depleted depth on defense, Ruikka received additional playing time as the season came to an end.
His best game was at the University of Vermont on Feb. 24, when the Chelsea, Mich., native tallied a career-high two assists in the Terriers' 5-0 win.
While Ruikka was not playing any games his freshman or sophomore season, the defenseman totaled 12 points in 63 games over the past two years.
His presence in the defensive corps next year means that barring any unexpected departures, BU will return a group of six defensemen.
Ruikka is known for his ability in the classroom, but by using his extra year of eligibility he can keep playing a sport he has enjoyed his whole life.
"I was always looking forward to getting to play another year if I could," Ruikka said. "It really worked out that I could come back."