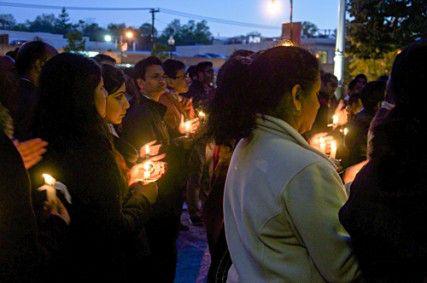 Boston University students, members of the Indian community and friends of Kanagala Seshadri Rao held candles as they listened to speakers and friends offer prayers for him and his family.
"May the light bring an end to pointless crimes," said Amrit Soni, president of the India Association of Greater Boston who organized the candlelight vigil for Rao Sunday evening in Marsh Plaza.
More than 80 people gathered at sunset to remember Rao, a Graduate School of Management student who was killed in Allston April 19.
"He was a very genuine person, always helpful whenever you asked questions," said Lokesh Amarnath, an alumnus of BU and National Institute of Technology in India who was one of Rao's friends and classmates.
In front of a table with Rao's picture covered with roses, Priest Padmanath offered prayers for Rao and his family.
"We are grieving with [Rao's family] because we have also lost a child in this community," he said. "One life lost is one too many."
Rao was a wonderful student and a role model to the community in Boston as well as his community in India, Padmanath said.
Friends and classmates of Rao went to mourn to show their support.
"He was really a good friend, he helped everyone," said Rishabh Shetty, a GSM student and friend of Rao. "He never had any fights, no trouble with anyone."
Pooja Shah, another GSM student, said, "Our class is very small, this was shocking really."
Shah said she would feel better if the police found a suspect.
"We're upset. It would be good if they could find someone," she said.
Shetty said he is worried the police do not have any leads and may forget about the case.
"It's a student city, but it's not safe enough," he said. "Security has to increase."
Shiva Sheel, a member of the IAGB, said he is very concerned.
"Our community has been here for a long time," he said. "We have to worry about sending our children and grandchildren to Boston [for school]."
Mohan Nannapaneni, the executive vice president of the Telugu Association of North America, who has worked with the family and the embassy since Rao was identified, said he is not concerned about safety for the Indian community in Boston.
"[I have] no major concerns," he said. "I strongly believe this is an isolated incident."
A number of groups from the community and campus, including the IAGB, the TANA, Tarang: Indian Graduate Student Association, the BU Hindu Students Council and BU India Club, went to foster a sense of community.
"We are here tonight for solidarity," Nannapaneni said. "We want to send a message to the family that we are there for them."
Shwetika Kumar, a member of Tarang who graduated from BU in 2009, said the death must be especially difficult for the family since it happened so far away from them.
"Our community came together today to show our solidarity," she said.
The community is looking for answers to all the open questions surrounding this case, said BU HSC President Amit Persaud, a College of Arts and Sciences sophomore.
"[The vigil] was a very somber experience," Persaud said. "It was a great show of support and remembrance. It shows how complete strangers can come together and unite in community."