This is the first in a series of obituaries on the three Boston University students killed in a tragic car accident while studying abroad in New Zealand.
Friends and professors of Daniela Lekhno said they could not find enough words to describe the Boston University junior who was a great friend, student and writer.
Lekhno died in the tragic car accident in New Zealand Saturday while studying abroad in Auckland.
"She had so much potential and so many gifts, this just isn't how it was supposed to be," said Hope Thomason, a College of Arts and Sciences junior and close friend of Lekhno.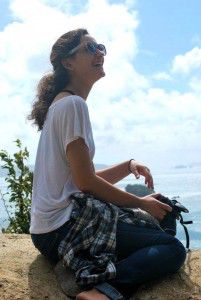 Friends said they have trouble finding words that do justice to the amazing writer and person that Lekhno was.
"There is and will never be anyone like Daniela. She was selfless, and incredibly beautiful. She cared for her friends better than anyone I know," said CAS junior Madeline Baker, another close friend of Lekhno.
Daniela was a beautiful writer, Thomason said, describing even her text messages of advice as worthy of publishing. She was also a kind and caring friend.
"With D I always knew I was never alone, she always had my back," Thomason said. "I don't know what I would have done without her the last few years and now I just can't imagine anything without her."
From Manalapan, N.J., 20-year-old Daniela was studying business administration and management with a concentration in finance in the School of Management, said SMG Dean Kenneth Freeman.
Lekhno was one of the "most impressive and memorable" of SMG professor David Randall's students, Randall said.
During their first class, Daniela appeared to not be paying attention, he said. Then she responded brilliantly to a question—showing she had not only been listening, but had been thoughtfully preparing and analyzing the discussion the whole time.
"This was no fluke," Randall said. "Daniela's acute intelligence, common sense and strong personality made her a classroom leader."
Randall said he had hoped to have Lekhno again as a student.
"She raised everyone's game, including my own," he said.
Thomason also described Lekhno as intelligent, calling her among the smartest people she knew.
"She was always lifting us up, but at the same time keeping us in check," Thomason said. "She was the best person to have a debate with. She was so quick and could keep a debate going on for hours."
Baker echoed the sentiment, saying Daniela was "amazingly smart and so capable."
"She knew how to work hard and she knew how to enjoy the beautiful things in this life," Baker said. "I will never be the same after knowing and learning from her."
Baker remembers Daniela as a selfless, beautiful person, who would give of herself to come to the rescue of her friends.
"She was wonderful with words, giving sage advice and perspective in a way that made you question whether she was really a 20-year-old girl who liked to wear floral," Baker said.
Someone who loved roses, green apples and John Mayer, Daniela was "so classy and beautiful," Thomason said.
Thomason remembers staying up all night together dancing around their suite singing songs and going to a cafe to do homework.
"She was always so much fun . . . there was never a dull moment," Thomason said.
Lekhno was a member of the Alpha Delta Pi sorority and mock trial during her freshman year at BU.
She will be remembered as an exceptional student who was very passionate about her studies, Freeman said.
"We will miss her presence at the school, inside and outside the classroom," he said.
Baker said the loss is heartbreaking.
"She will never fade into our memories, but will always be pushing us on with the light she gave to all of us while we were with her," she said.