Tongue-in-cheek, slick alt rockers The Dandy Warhols are back this year with new album This Machine, their first studio release in four years.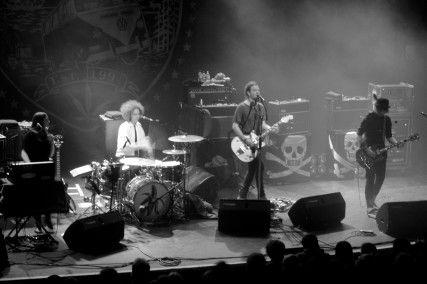 While the album struggles through the first half, floating in between nondescript psychedelia and garage-pop drone, the second half stands strong, incorporating Lou Reed-esque riffing over the classically hipper-than-thou hazy vocals from frontman Courtney Taylor-Taylor.
After over a decade in the business, including a long stint with Capitol Records, a documentary, and various art projects on the side, the Dandys have finally gotten comfortable. The question remains as to whether this comfort makes for inspired material in the studio. While new tracks like "Rest Your Head," thumpingly catchy Merle Travis cover "16 Tons," and "Seti vs. the Wow! Signal," the album fails to even come close to the classic powerhouse rock album Thirteen Tales from Urban Bohemia that garnered the band so much critical and popular acclaim.
Urban Bohemia was a breakthrough for the band as well as the alt-rock scene of the late 90s and early 2000s, but This Machine plays as though the band is resting on its laurels, teetering on the edge of experimentalism but collapsing before the leap in exhaustion.
That being said, the album is still very much a production of Taylor-Taylor and co.'s traveling brand of shoegaze alt-rock weirdness, and more than a little enjoyable because of this. While it may not impact musical conversation in the same way that their earlier albums managed to do, it holds up as a solid testament as to why the Dandys gained notoriety in the first place.
The Dandy Warhols are bringing their intensely psychedelic, power-garage pop act to the Royale this Friday. Buy tickets here.