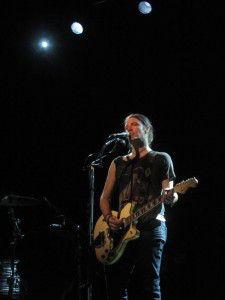 Whatever misconceptions you might have about The Dandy Warhols from their documented feud with Brian Jonestown Massacre frontman Anton Newcombe, their self-created art space the Odditorium, and …Earth to The Dandy Warhols…, don't let yourself be misled ­– Courtney Taylor-Talyor and his veteran crew have their sh*t firmly together.
Despite being stuck with an early show at the Royale on Friday, the Dandys managed to fill the venue with die-hard fans after the openers finished around 7:30 p.m. Keyboardist/bassist Zia McCabe acknowledged the phenomenon, thanking the audience for having to "skip dinner to get here." Taylor-Taylor grinned and added, "Yeah, you guys must be f*cking starving," (I was).
The crowd didn't seem to mind, nor did I, especially when the band delved into its discography, blissfully breezing through old crowd favorites like "Not If You Were the Last Junkie on Earth" and "We Used to Be Friends."
Despite the psychedelic garage rockers' veteran status, the performance remained consistently strong and cohesive throughout the show, tailored to the effortless cool that comes from being in the biz for so long. Sometimes there's a fine line drawn between sh*t-giving and blasé, but Taylor-Taylor and co. seemed to toe this line with a genuine sense of, well, fun.
McCabe's groovy keyboard riffs were offset perfectly by the psychedelic fuzz of Taylor-Taylor's guitar, floating seamlessly through each song in a whir of shoegaze-influenced garage-rock.
After powering through many popular tracks off of their electrifying 2000 record, Thirteen Tales from Urban Bohemia, including the beat-driven rock romp of a hipster anthem, "Bohemian Like You," the Dandys took their leave. Before walking off the stage, Taylor-Taylor humbly drawled into the microphone, "Thank you for spanning time with us. And don't forget: we are, and ever shall be, The Dandy Warhols."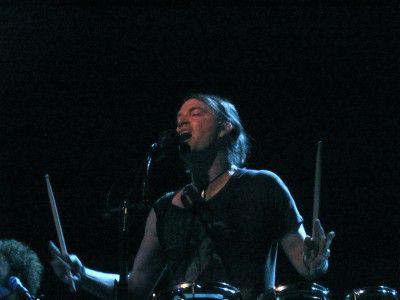 All press and personal issues aside, Taylor-Taylor's resonant statement seemed to really punctuate what it meant to see The Dandy Warhols live – impossibly groovy in exactly every way you were hoping it would be. Here is a band that maybe hit its high point at the turn of the century album-wise, a band that's been through the great battle of the 90s between the meteoric rise of alt rock and the major label executive leeches who sucked them dry, but most importantly, a band who lives to tell the tale, and pretty damn stylishly at that.