Thousands of Boston University freshmen paraded into Harry Agganis Arena to attend this year's class of 2016 matriculation ceremony Sunday afternoon.
The freshman weigh in at about 3,900 students, originating from all 50 states and 69 countries around the world, according to statistics provided by BU spokesman Colin Riley.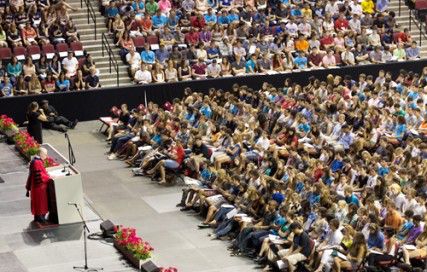 Female students outnumber male students 60.9 percent to 39.1 percent. The incoming freshman class is strong academically, with an average SAT score of 1922 and an average GPA of 3.57.
Following matriculation tradition, Dean of Students Kenneth Elmore called the ceremony to order and introduced Marsh Chapel Reverend Robert Allan Hill, who delivered an invocation inspiring students and faculty alike to exceed in the coming year.
"To those who will study, we ask to give energy," Hill said in his invocation. "To those who will teach, we ask give the courage to seek and speak truth without fear or favor. To those who will lead, we ask give imagination and insight to create community."
Student Union President Dexter McCoy, a College of Communication junior, addressed the new students.
"Greatness is not defined by fame or notoriety," he said. "It is found in the meaningful, shared experiences that we have with one another."
McCoy encouraged students to keep pushing to reach their moments of greatness and to take advantage of BU. He also encouraged new students to forge their own path through the college experience.
"This is the place where great thought leaders and social pioneers got their start," he said. "I'm here before you today because, like me, I want you to get involved, to meet some people, to solve some issues and make this institution and this world a better place for everyone."
Department Chair and Associate Professor of Astronomy Tereasa Brainerd said students should be prepared to work harder than they have in previous years.
"I hope you're all incredibly excited because you ought to be," she said. "The reality check is that if you want high grades at BU, you're going to have to work even harder than you did the past four years."
Brainerd said students should take advantage of professors and academic programs at BU.
"Your professors love to teach and are here to help you, but the onus is on you to take the initiative and come to them if you're struggling," she said. "Ask questions — lots and lots of questions."
Shadi Daher, president of the Alumni Council, told students that the alumni community welcomes them "to the BU family," referring to them as "alumni in residence."
"I know that you will blaze trails of your own and leave your own impact on our university," Daher said.
BU President Robert Brown then delivered his speech to the students, in which he said college rankings are not as significant as they seem and that BU is a unique and important school.
"Dr. King's dream that people be judged not by the color of their skin, but by the content of their character — their actions and their accomplishments has long been reality here," he said.