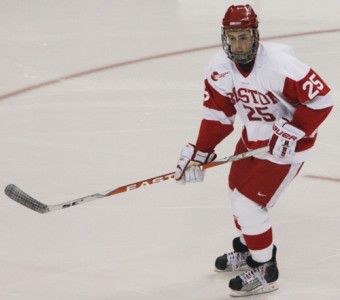 In light of the whirlwind surrounding the Boston University men's hockey team in the last week — first the task force report and then a Boston Globe article with what was supposed to be confidential details — former Terrier Colby Cohen has spoken out against the task force and in defense of coach Jack Parker.
Cohen first voiced his displeasure with the task force via Twitter on Wednesday when he called the findings "a joke," adding "Boston University should be ashamed of the way they have handled this from the start."
He went into more detail Saturday night in an interview with The Daily Free Press.
"This whole thing has been very, very much exaggerated," Cohen said via phone.
Cohen played under Parker for three seasons between 2007 and 2010 before signing with the Colorado Avalanche and forgoing his senior year. He said in his time at the school he had good relationships with many students and professors, some of whom he is still in contact with.
He said he never had any incidents similar to the womanizing ones described by the Globe, and he spoke to the idea of a brotherhood that often prevents players from getting themselves into bad situations.
"That kind of stuff is taken very seriously amongst guys, amongst players professionally, in college, in juniors," said Cohen, who is now in the Boston Bruins organization. "Guys police each other for that kind of stuff. A couple guys' lack of judgment, I don't think it creates a culture like is being said."
Still, he said he understands the severity of last year's sexual assault charges and seemed considerate toward the entire situation.
"I totally understand, and you have to take course of action. That stuff is very serious," Cohen said. "I don't want people to think that as a hockey team, as a group and as a culture of hockey in general that people don't sympathize with that stuff."
However, Cohen criticized the idea that Parker, who is entering his 40th year as the Terriers' bench boss, does not have control of the team. He said the people calling for Parker to step down "don't know the first thing about hockey."
"There is not a coach in college hockey that has more control over what goes on in his group of players," Cohen said. "Coach Parker isn't a babysitter. He doesn't go out with the guys on Saturday night and hold their hands at the bar. So if a player makes a poor decision, then Coach Parker deals with it that Monday morning.
"He also has the strictest rules for any team in college hockey."
Cohen went on to cite the team's drinking policy — the players are allowed to go out one night per week during the season, usually Saturday — as an example. He also referenced the coach's habit of disciplining players for a variety of reasons.
"[Parker] doesn't care if you're a walk-on or a third-round NHL pick," Cohen said. "If you break rules, you break rules."
In recent years, Parker has either removed or suspended several players from the program. In May of 2010 he kicked off brothers Vinny and Victor Saponari for "cumulative instances" of bad behavior and suspended Corey Trivino for "a related issue."
In January 2011, Andrew Glass was told to leave the program for breaking a variety of team rules that were never specified.
Kieran Millan, the team's star goaltender for the last four years, was benched for a game against the University of Vermont in November 2011 for skipping class, and most recently, of course, Parker booted Trivino and Max Nicastro following their arrests in December 2011 and February 2012, respectively.
At the time of Trivino's arrest, Parker said it was not necessarily so much the arrest as it was the fact that Trivino got into trouble with alcohol, the fourth such incident in Trivino's time at BU.
Cohen backed up the Parker-the-disciplinarian perspective.
"He's benched guys for missing class. I've seen him put guys in extra study halls for extra time for getting bad grades. He's done it with everyone from Kieran Millan to me and [former BU defenseman Kevin] Shattenkirk," Cohen said. "I missed a game one year as a healthy scratch, and he didn't care that I was leading the team in goals that year. It doesn't matter to him. Everybody abides by the same rules."
Cohen also disputed certain details of the Globe's report Friday about a post-2009 NCAA championship party at Agganis Arena. He acknowledged that, yes, the team did have a party at the arena, but said parts of the report were "grossly exaggerated."
The team, the then-girlfriends of those players and other close friends of the athletes attended the party, Cohen said. The team was drinking but "it was no different from any other [college] party."
According to Cohen, no one had sex in the penalty box, and no one took to the ice naked to shoot pucks, two details from the Globe's story.
"The things that were described in the Globe couldn't be farther from what actually happened," said Cohen, who scored the NCAA championship-winning overtime goal against Miami University. "That stuff's crazy. When I read it, I literally had to go back and make a phone call to a female friend of mine who is a very close friend of mine who was there, and I said, 'Did I miss this stuff?'
"And she said to me, 'That stuff did not happen. That's outrageous.'"
Parker found out about the party and "he addressed it with us, and we kept it inside the locker room," Cohen said. He also said he did not remember what specific punishment there was, if any.
Still, Cohen said he does not believe Parker has lost control of the team by any means and said repeatedly how much he — and other former BU players — look up to Parker and seek his advice in their post-BU and post-hockey lives.
"He commands the utmost amount of respect from his players as much as any coach I've ever played for," Cohen said. "The fact that his command of what's going on is in question, it just shows that the people questioning it are lost.
"Anybody who is close enough to the team … understands the way it's run and sees how hands-on Coach Parker really is and that he's not just a figurehead."