Boston University College of Engineering senior Erik Frazier said he was in shock when he received the news that his friend Austin Brashears had died in a car crash while abroad in New Zealand in May.
Students honored the life of Brashears and two other students who died in the car accident at a memorial service Monday evening.
"I could fill a library of all the good times we had and only one journal line of the bad," he said at a memorial service Monday evening. "He was the brother I never had."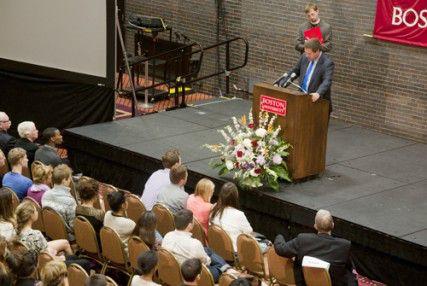 BU President Robert Brown spoke to an almost full audience of BU students, officials, family and friends and said the community was "diminished by [the] loss" of ENG junior Brashears, School of Management junior Daniela Lekhno and College of Arts and Sciences sophomore Roch Jauberty.
"Each had come here full of talent and rich in promise," Brown said. "But they will always be young, enduring in our memories and in our hearts."
The three students died May 12 in a car crash in Taupo, New Zealand, while studying abroad.  The crash also left five students injured.
College of Communication junior Theresa Gombar, who became friends with Jauberty in her freshman year, said she was impressed with the turnout at the service.
There are times, Gombar said, when she still thinks about her time with Jauberty.
"I couldn't believe that someone so full of life could be so extinguished so quickly," she said.
Pip Stevens, a junior in COM, said she was home over the summer when she found out the news about Jauberty. She could not travel cross-country to attend the funeral in the summer, so she said she appreciated being able to attend the memorial service upon returning.
"I spent the whole summer grieving," Stevens said. "Having this [service] is really nice. It's a final moment of closure."
Marsh Chapel University Chaplain Br. Larry Whitney, who conducted most the service, said the university decided to have a ceremony when the BU community was back together on campus and more students could attend.
"BU, in spite of being a large university, is a family and a community," he said. "We got together with everyone for the community to process."
Following Brown was Dean of Students Kenneth Elmore, who recited a quote by Howard Thurman. Students from the College of Fine Art's School of Music performed.
Four close friends of Lekhno spoke at the service, calling her "one of the greatest optimists of the world."
Lekhno, she said, was always concerned with others' problems as if they were her own. COM senior Sophia Perlstein said although she did not personally know any of the three students who died, she attended to support her friend that did.
"It says something to show your support for your community," she said. "It [made] me want to come and be part of it."
Tom Brashears, Austin's father, spoke at the memorial service about his son's ability to "make lemonade out of anything."  He remembered his son as someone who lived in the moment.
When choosing to attend BU, Austin Brashears left it to the flip of the coin.
"Tails never fails, Dad. Get your credit card. I'm going to BU," Tom Brashears remembered his son saying.
Tom Brashears wished luck and peace to his son's friends, colleagues and the students who studied in New Zealand in May.
"To the parents of Austin, Roch and Daniela, please know you have our deepest sympathies and are in our hearts," Brown said.