For the second time in September, Boston Mayor Thomas Menino vetoed redistricting plans from the Boston City Council, arguing that the second plan is just as unfair to minorities as the first.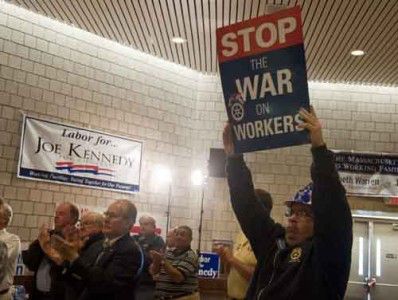 Menino said he was concerned about the first plan because it concentrated citizens of color into too few districts, Menino wrote in a letter Monday to the city council.
"This over-concentration was especially true in District 4, and the second map you passed shares the very same problem there and almost the very same figures," he said.
Menino cited the letter of his last veto, explaining that if the districts were drawn in the fashion proposed in the first map, minorities would be denied equal opportunity to elect candidates of their choice.
Menino said he reiterates the same concerns he had with the previous map, calling for a redistricting plan that would "avoid the over-concentration of protected groups in any district" and "provide reasonable opportunities for voters of protected groups to achieve proportionality" in city council representation.
Redistricting is required every 10 years after census results are calculated. A new redistricted map must be approved by the end of the first week of November.
The new map, reintroduced and drawn by Councilors Tito Jackson, of Roxbury, and Matt O'Malley, of Jamaica Plain, passed 7–6 on Wednesday, the same narrow margin as the vote for the first redistricting map.
In addition to Jackson and O'Malley, the other five votes of support came from City Councilors Frank Baker, Ayanna Pressley, John Connolly, Felix Arroyo and Michael Ross.
But Councilor Charles Yancey, of Dorchester, said the map failed to "unite Mattapan," The Daily Free Press reported on Sept. 19.
If passed, the first redistricting plan passed in August would have faced legal threats from various minority groups, including the Massachusetts civic education initiative Oiste and the Boston chapter of the National Association of the Advancement of Colored People.
Jackson voted against the initial redistricting proposal, but voted for the new proposal along with two other minority councilors who voted against the original redistricting proposal.
Menino singled out the shape of District 4 in his letter, which he said had an over-concentration of minorities.
"Under both maps passed, almost 70 percent of the District 4's voting age population is black and almost 95 percent is non-white," Menino wrote. "In a city where diversity is found broadly, I had asked that you endeavor to avoid over-concentration of minority voters, and I make that same request again."
Besides Yancey, the councilors who voted against the most recent map included City Council President Stephen Murphy, Mark Ciommo, Bill Linehan, Robert Consalvo and Salvatore LaMattina.
The Boston City Council's Committee on Census and Redistricting is holding a public hearing on Friday at 11 a.m. in City Hall to address issues of redistricting.
The redistricting map will be sent back to the city council before it comes to the mayor's desk again.