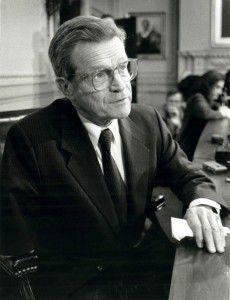 Former Boston University President John Silber, 86, died of kidney failure early Thursday morning after a long illness.
Silber served as university president for 25 years from 1971 to 1996, and as chancellor from 1997 to 2003. He also served as acting president for 16 months after President Jon Westling resigned in July 2002.
"Boston University for nearly three decades was synonymous with John Silber's leadership," said BU spokesman Colin Riley. "He had a clear vision and had, during this, hurdles to overcome to improve the university and was able to do it with the support of trustees and faculty … I've always said that most students or faculty wouldn't even be here if not for the caliber school that BU became under John Silber."
He became president of BU with a vision of improving the faculty, increasing the endowment and improving the student body.
While his approach was sometimes ill-received, he effectively transformed BU from a regional and commuter school to the residential and research university it is currently, said BU President Robert Brown in a phone interview.
"Boston University has started a tremendous transition from a region-based university from 1971, and it's still going," Brown said. "John led that — it was his big accomplishment at BU."
He said that Dr. Silber's major contributions include the establishment of a residential, dormitory-based lifestyle with the acquisition of various buildings and land plots.
"He laid the groundwork," Brown said.
Dean of Students Kenneth Elmore said that BU is at its current level of prestige because of Silber's efforts while president.
"This was a person who really, when we talk about transforming an institution, is at the heart of transforming it," he said.
Elmore said that part of Silber's legacy was to help BU into becoming a more competitive, world-class academic institution. He cited Silber's push to change BU from a mainly commuter-based university into a residential one.
"He transformed BU," Elmore said. "We're a great private, residential research institution because of John Silber — a great residential place for research."
When Silber became president, BU had an $8.8-million deficit, and he was forced to begin his tenure by freezing salaries. In 1975 when faculty voted to unionize, Silber refused to recognize the union.
Silber took a leave of absence from BU in 1990 to run for governor of Massachusetts. He defeated veteran politician Francis Xavier Bellotti in the Democratic primary elections Sept. 18, winning 55 percent of the vote.
He lost, however, to Republican candidate William Weld. Silber was later appointed head of Massachusetts' Board of Education by Weld.
In an interview with The Daily Free Press on April 28, 2003, Silber recalled his tenure as president of BU. Upon his return, he described the job as rigorous, but exciting.
"Recruiting faculty members and recruiting and evaluating deans and administrators and making decisions that are appropriate to the operation of the university, balancing the budget — those are all time-consuming and they're somewhat difficult jobs, but they have a lot of satisfaction that goes into them," he said.
Many BU students were critical of Silber and the tuition hikes during his tenure, among other political reasons.
Brown commented on Dr. Silber's decisive, and sometimes controversial, personality.
"It's clear that John was an assertive leader and had clear opinions about how the university should run," he said.
But some professors, he said, did not always agree with his policies.
"They weren't always well received," he said.
But he said that Dr. Silber was "one of the brightest people" he had ever met.
"He was able to engage you on any topic," Brown said.
In 2003, Silber said the campus was more focused on politics than academics in the 1970s.
"It was a pretty inactive campus when it came to studying," he said. "It's a lot more fun to sit out there and raise hell and not study than it is to just do that silent, difficult work of mastering the courses that you're taking."
Robert Knox, chair of the BU board of trustees who studied under Silber's tenure, said the former president was "brilliant" and credited him with major changes to BU.
"The University would not have achieved its current prominence without his decades long dedication to building both the physical campus and the quality of the faculty," said Knox, a 1974 graduate of the College of Arts and Sciences [formerly known as the College of Liberal Arts] and a 1975 Graduate School of Management alumnus. "He was the most tenacious advocate for BU and higher education that I have ever known."
Riley said that in the end, Silber's biggest priority was education.
"I think most people would be surprised to know that he was a doting father and grandfather. He loved children. He cared very much for quality of education," he said. "Education was his highest priority, and he cared very much for making sure public schools and higher education institutions provided the best education possible so that individuals would be able to reach their full potential."
Sydney L. Shea contributed to this article.