The Green Line collision near Brigham Circle that injured three people Monday afternoon was due to human error, Massachusetts Bay Transportation Authority officials said.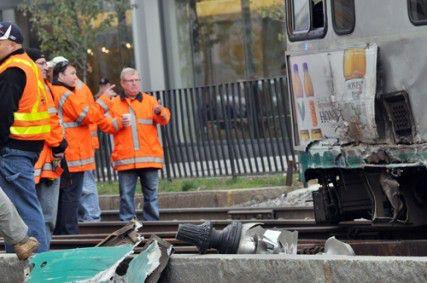 MBTA spokesman Joe Pesaturo said that a Green Line inspector in charge of a switch on the tracks is responsible for the accident.
"The switch that separates the inbound from the outbound tracks was set in the incorrect position," he said. "It wasn't the fault of the trains or the operators of the trains, it was the switch on the tracks. A Green Line inspector is responsible for the switch and making sure it's in the right position."
Two trolley cars crashed into each other on Huntington Avenue at about 4 p.m., Pesaturo said. The inbound train moved over to the outbound side toward the train heading for Brigham Circle coming from the other direction. The inbound trolley made contact with the second car of the two-car trolley.
The accident caused neck and back injuries to two outbound passengers and a trolley operator, Pesaturo. The victims, who were not identified, were taken to a nearby hospital after the accident.
Pesaturo said the MBTA identified the inspector involved.
"That person is being interviewed, and it's standard procedure to also go for a drug and alcohol test," he said.
Boston Fire Department spokesman Steve MacDonald said in a phone interview that MBTA Transit Police, regular MBTA operations, Boston Fire and Boston EMS were dispatched to the scene.
The E Line was closed near Brigham Circle and likely will not be functioning until Tuesday, Pesaturo said.
"It's going to take a while to re-rail the train that was headed to Brigham Circle," he said. "They're going to work on it all night and hopefully get it done for the morning."
Trolleys are running from the Northeastern University stop inbound while repairs are made on the rest of the E Line.
Huntington Avenue was closed to traffic between Longwood Avenue and Brigham Circle. Eastbound lanes were opened to traffic at about 6:15 p.m.
Alison Pultinas, a Mission Hill resident, said she became aware of the crash after helicopters began flying in the area.
"I think there was confusion over whether the trolleys are going to Heath Street or whether they were turning around at Brigham Circle," she said.
Pultinas said the Brigham Circle area is poorly designed and often leads to problems with trolleys, including the amount of space the lamppost takes up, the conditions of the platforms and the amount of room trains have when they turn.
"The platform is not wide enough to accommodate passengers," she said. "Both inbound and outbound, and people walk down in the middle of the road to get inbound because they don't understand."