The imaginary crowd roars as a 3-year-old Matt Nieto darts past one imaginary defender, fakes to his right and blasts an invisible puck past an imaginary goalie. Nieto runs around his living room, raising the miniature stick over his head as he celebrated his incredible feat.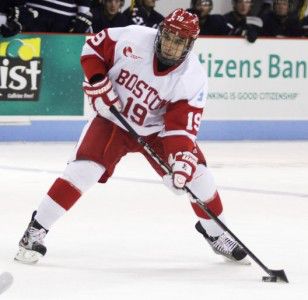 The move was one he had just seen on TV, as he was actually reenacting the play he just watched the Mighty Ducks of Anaheim perform. It was moments like those that began Nieto's journey from his living room in Long Beach, Calif., to Agganis Arena as one of the Boston University men's hockey team's star forwards.
Nieto is unlike the majority of Hockey East players because he is not from the typical hockey market.
Ponds do not freeze over in southern California for some mid-January pond hockey with friends. Hockey is not a part of the soul of the area like it is in New England, Minnesota or Canada.
But when Wayne Gretzky was traded to the Kings in 1988 and the Mighty Ducks of Anaheim became a franchise in the NHL in 1993, the sport of hockey began to catch on in southern California. One child it caught on with was Nieto, whose parents signed him up to play roller hockey at his local YMCA.
"A lot of kids from California start by playing roller hockey, and I think it's good for developing skills that transition to the ice game," Nieto said. "Then I made the transition to ice, and I didn't want to go back."
Nieto spent most of his youth hockey career with the L.A. Hockey Club where he played with future top California hockey products Emerson Etem and Rocco Grimaldi, among others.
Etem was taken in the first round of the 2010 NHL draft by the Anaheim Ducks, while Grimaldi, who is playing at the University of North Dakota, was selected in the second round of the 2011 draft by the Florida Panthers.
With the abundance of talent around him, Nieto grew as a player and knew he was ready to take the next step in pursuing a career in hockey. That step was to move almost 3,000 miles across the country and attend Salisbury School in Salisbury, Conn., for his sophomore year of high school, where he would be a part of one of the top prep school hockey teams in the country.
Along with his friend and teammate Shane Sooth, Nieto packed his bags and flew to his new school, which was an all-boys school.
It was his first time away from home and his family for more than a few days for hockey tournaments.
"It was a big transition," Nieto said. "I was a young kid — I was 14 years old. To move away across the country from my family, that was pretty hard. But I knew it was a sacrifice I had to make to get to the level where I am today and along the way I have met a lot of great kids — kids I am still in touch with today."
Nieto was one of the youngest sophomores in the New England Prep School leagues, but he still recorded eight goals and 10 assists in 28 games in his lone season with the school.
That performance was enough to get him noticed by the U.S. National Development Program, so after his freshman year he packed his bags again and flew up to Ann Arbor, Mich., to compete at an even more elite level.
His team consisted of an abundance of early-round draft selections, including former Terrier Adam Clendening and current Anaheim Ducks defenseman Cam Fowler. Nieto said playing while participating in the national program was demanding, it helped him develop the work ethic to compete at the professional level.
"Being around guys like Fowler and seeing their work ethic and how they carry themselves — they are just professional and class-act guys," Nieto said. "Just to look up to them as role models and seeing what they are doing every day really impacts us."
The National Development Program competes against college teams, which is something BU coach Jack Parker said he likes when he is recruiting a player.
"One of the great things about that program is it's almost like you get incoming freshmen who have already played a year of college hockey because they play a lot of college teams and they are over their heads a little bit, but they still compete real hard and they play well," Parker said.
After scoring 14 points in 13 games in 2008–09 and 25 points in 30 games the following season, Nieto had a decision to make in whether or not to play Canadian junior hockey or college hockey. Once he decided on the college route, he had to decide which school to attend.
"I visited [BU] and BC," Nieto said. "I just loved the city of Boston and I knew it was between one or two of these schools. I just loved the BU campus. I loved everything about this place."
So, once again, Nieto packed his bags and flew to Boston, where he has settled for the past two years. His freshman season, he scored 10 goals and 13 assists, helping him get drafted in the second round (47th overall) by the San Jose Sharks.
At first glance, getting drafted by San Jose would represent a homecoming for the California kid. However, San Jose is more than 350 miles away and more than a six-hour drive away from Long Beach, which is longer than the distance between Boston and Philadelphia.
That's not exactly a homecoming.
"I'll tell you one thing," Nieto said. "A six-hour drive is better than a six-hour flight. So I was happy about that."
The next destination for Nieto, which could be out west in San Jose or back east with the Sharks' AHL affiliate in Worcester, might not be too far away if he continues to shine at the collegiate level. Nieto finished last season with 16 goals and 26 assists for the Terriers and enters his junior season leading as the leading returning point scorer.
Nieto has certainly come a long way from running around with a hockey stick in his living room. He has traveled from the safety and warmth of his home in southern California to the cold and unknown of Salisbury, Ann Arbor and most recently, Boston. But everywhere he has been, he has been pursuing a dream that is relatively unusual for a California kid — playing professional hockey.
"I have no regrets," Nieto said. "I wish I could have been home a little longer, but it was the sacrifice that I had to make to be at the level where I'm at today."