Green Party presidential candidate Jill Stein appealed to her supporters' resistance to dual-party politics in her appearance at the American Islamic Congress on Newbury Street Wednesday night.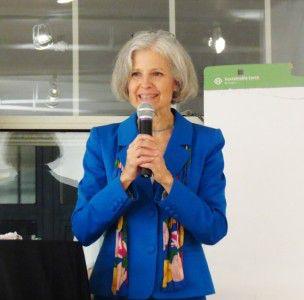 "This is political therapy because a lot of people are locked in an abusive political relationship," said Stein, referring to both major parties' influence on the public. "I'm a doctor. People ask what kind of medicine I practice, and I say politics."
Stein reeled in an audience of 30 people at the American Islamic Congress. She thanked the crowd for what she described as their rebellion of the two-party system.
Stein spoke at the American Islamic Congress, while traveling on her Politics of Courage tour, to a group of about 30 people, ranging from college students to Boston activists and took questions from the crowd after her speech.
Stein said her main agenda was to push her Green New Deal, modeled after former President's Franklin Delano Roosevelt's New Deal that was designed to lift the U.S. from the Great Depression in 1933.
Stein said it is imperative to get Wall Street out of the White House.
"We are at the breaking point," she said. "We didn't get here by accident."
The priority of Stein's Green New Deal is to change the U.S. economy into a new, sustainable, green economy, ending the conflict that forces people to choose between jobs and the economy, according to a pamphlet handed out at the meeting.
John Andrews, a Massachusetts volunteer for Stein's campaign, introduced her and said she is "the woman who is changing politics" in the U.S.
Stein said she is not just fighting for the Green Party, but for the progressive movement and socialist alternative.
"We need to stand up right now to create the green climate and the green economy that we deserve," she said.
Stein also addressed issues affecting students and young people, including loan debt and the cost of higher education.
She said she wants to erase student debt by eliminating quantitative easing in the Federal Reserve, and instead have the Fed buy up student debt.
"We can unleash power and creativity of students to reboot the economy who are right now virtually indentured servants," she said.
Stein said she had the goal to make higher public education free because for every dollar invested in education, the economy would get seven back.
Moving on from the economy, Stein addressed the issue of the expanding war overseas.
She said she is disappointed that Obama did not turn out to be the country's "peace president," and said "the drone war is the best weapon the Taliban could have asked for."
At the end of her talk, Stein sung with Tom Neilson, a Massachusetts musician for social change, on a song calling for change in the economy.
"Why does Obama decline?" he sang. "Is he afraid of Jill Stein?"
Mike Heichman, a Massachusetts Green/Rainbow party member who came to the talk, said Stein is a great candidate but there is a lot of work ahead.
"No matter who wins the elections, we have a lot of work to do," he said.
Emily Sabino, an audience member at the talk, said Stein is inspiring.
"This time it felt like it won't work to vote for Obama or Romney," she said. "I don't want to vote for a corporate candidate."