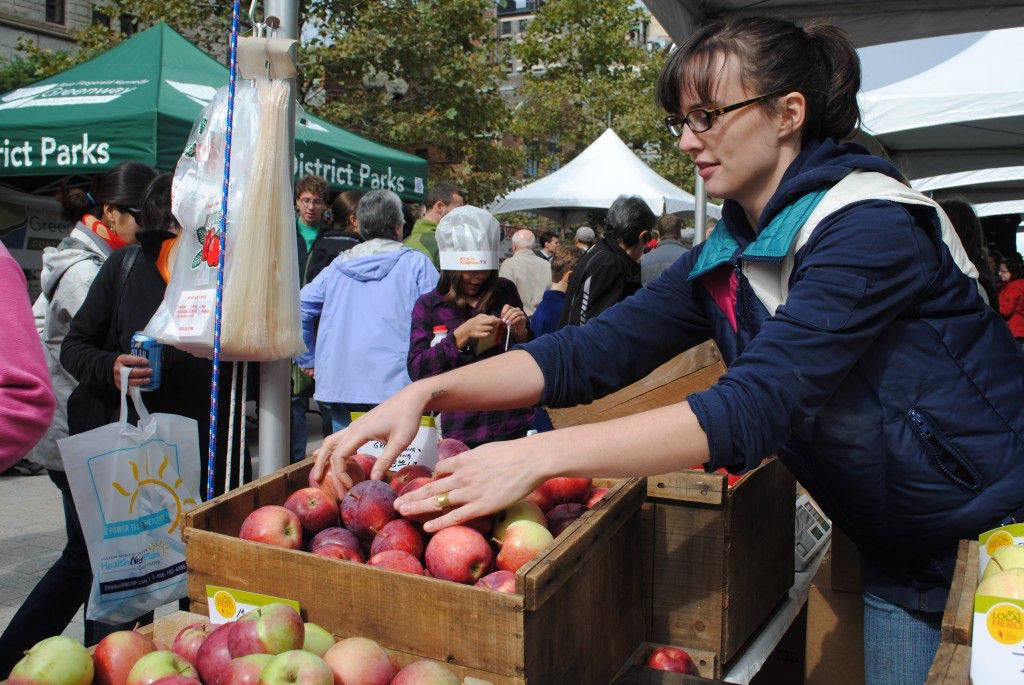 Since 2010, each October, the Rose F. Kennedy Greenway fills with both people and food of all kinds for the Boston Local Food Festival. Despite the overcast weather in downtown Boston, the annual celebration was in full swing on Saturday.
Launched by the Sustainable Business Network, the festival is part of an initiative to increase consumption of "farm-to-table" food — fruits, vegetables, dairy, meat and grains that are grown and sold locally — in order to stimulate Boston's economy and raise awareness about the benefits of sustainable eating.
Aside from the festival mainstays, such as the locally grown fruits and vegetables, vendors offered homemade cookies, chocolate, bread, caramel apples, jams and preserves, nuts, milk, coffee, red gravy, cotton candy and gourmet mushrooms. Grills dished out fresh meals, and virtually every kind of fish available in Boston was laid out on ice, ready to be purchased.
For the foodies on a budget, it was entirely possible to fill up at this festival without spending a dime, as vendors gladly allowed a sample. But the attendees who found themselves rummaging through their bags for $3 to buy that entire tart, flat bread or organic cookie were a testament to just how delicious local food can be.
In tune with the local food theme, local music blasted through the Greenway and the surrounding streets, pumping up the crowd. Demonstrators created a grand scene, carving raw meat and cooking up meals right in the center of the green in front of a crowd of cameras and hungry faces.
At virtually any given stand, the owners, employees and volunteers were eager to start a conversation. As they worked non-stop serving crowds of hungry customers and producing more of their treats, there was always someone standing by to talk about why they were there and what could be done to support their cause. A number of participants were throwing around phrases such as "it's very easy," "people usually don't know" and "we want to get the word out."
The farmers and their friends were not just at the festival to advocate local eating, but to increase awareness about a cultural tendency in staunch opposition to the "locavore" movement — the fast food business. Passing a pizza stand, a few men and women were stopping attendees to ask, "Do you like McDonald's?" to get the word out about the restaurant's unsustainable and unhealthy practices. A sign read "Free Water across the Street," and pointed toward the harbor, inciting giggles in passing.
This "locavore" movement, referring to local food producers, consumers and supporters, is a theme that has been gaining momentum around the nation. In Boston, the movement is especially visible. Farmer markets are easy to come by and "No Farms, No Food" stickers are popping up all over bumpers, laptop covers and water bottles. This trend is not just for the hipsters, as the day was not just about appreciating organic food, but about community. Families, couples and both young and old Bostonians came out for the day, creating a diverse crowd.
Not only is the food delicious, but it is much healthier. It does not need to be shipped across states or countries, so fewer preservatives need to be used to keep it fresh. In addition, shorter travel means less damage to the environment and less overall cost. All in all, local food ends up being much friendlier on people's bodies, wallets and the planet.
One can enjoy the Boston Local Food Festival—and local food—just as much without having any interest in sustainability, organic food or locally made food, because the food is simply delicious.
Sofra Bakery and Cafe of Cambridge dished out absolutely delectable Pumpkin Jam Bars, Katsiroubas Bros. offered samples of freshly made cotton candy to any passers, while Maine Root sold cups of their Pumpkin Pie Soda.
But vendors still sell their food outside of the festival, as they thrive off of local support.
Just as you don't need to be a hipster to be part of the "locavore" movement, you don't need a festival to be able to enjoy local food all year long.