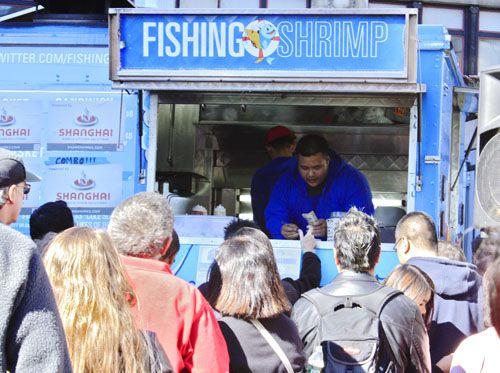 In a competition bustling with avid food lovers, Boston beat out New York's food trucks in best sandwich and best Asian-inspired food on Saturday, pulling the most wins for the Hub in the first Food Truck Throwdown.
Fourteen Boston and New York food trucks gathered in Dewey Square of the Rose F. Kennedy Greenway Conservancy to compete for the best in nine different categories, including best seafood and best truck design.
Long lines formed outside of each of the trucks, some winding halfway through the square.
"We haven't eaten the food yet, but I'm pretty sure it's going to be something," said Chelsea Herrera, a customer from California. "There's going to be good food, and we're definitely going to wait in all the lines to get all the trucks."
Boston truck winners included Roxy's Grilled Cheese, which won best truck design, as well as Bon Me, which won best Asian-inspired item.
Four celebrity judges picked the winners.
The judges included a steak house owner from Boston, two food bloggers from Boston and New York and a Boston chef, said Elizabeth Good, an event coordinator at the Greenway Conservancy.
"People love food trucks — they draw a really incredible and diverse cross section of folks," Good said. "It's accessible. It's a fun event. It doesn't involve a ton of leg work, so a lot of people can be involved at a pretty low cost both financially and energy wise."
Sara Ross, the owner of Boston's Kickass Cupcakes, founded the Food Truck Throwdown. She said she got the idea after noticing the increased number of food trucks around the city and participating in other food truck competitions.
"We've been participating in food truck festivals, and they are a lot of fun," Ross said. "I thought it would be great to add one more to the mix and then add another whole layer of excitement by adding the competitive edge to it — the 'throwdown' part."
Although the New York truck Wafels and Dinges took home best sweet item, Melissa Gale, a Boston University School of Hospitality alumna and owner of the Boston truck The Cookie Monstah, said she enjoyed the festivities.
"I think there's a lot of camaraderie and respect among all of the trucks in this city," Gayle said. "We're kind of all in the thick of this business together, so [it's been] really nice."
Alex Conception, director of operations and a representative for the Lobsta Love food truck, said his food truck would wipe out other competition.
"We fear no one," Conception said, wearing a lobster costume to attract costumers. "There is a thousand-percent chance [of winning]. Two claws up, maybe we're going to pull this competition. You know what? We're going to blow this competition today because we're Lobsta Love."
Lobsta Love later won best sandwich.
The competition was sponsored by JetBlue Airlines, which rewarded winners with free round trip tickets.
The City of Boston and the Greenway Conservancy also lent their support to Ross with planning support and assistance.
"It is an insane amount of work, and then organizing the trucks and landing the sponsors," Ross said. "Just all sorts of little things that you don't even think about. But I have had a lot of help, and I am very fortunate the City of Boston has been very supportive, and also the Greenway as well, in this event. I couldn't have done it with without them."
Ross said she hopes to turn the Food Truck Throwdown into a festival that takes place two or three times a year. She said she is also thinking of expanding it by including ingredient throw-downs and team competitions.
"Everyone's happy," Ross said. "The truckers are happy, the people who came are happy, the City of Boston is happy."