As the clock ticks for the Boston City Council to approve the newest redistricting map, city councilors proposed a third map at a redistricting meeting on Tuesday that could pass a council vote as early as Wednesday.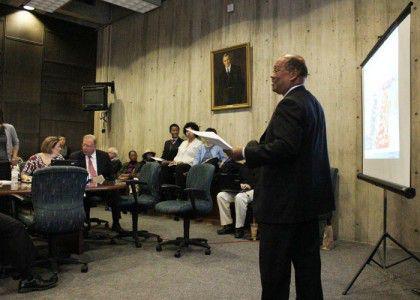 The meeting at City Hall reflected councilors' efforts to put forth a third map that would serve the needs of Boston residents and meet Boston Mayor Thomas Menino's specifications to avoid yet another veto.
"This is the next step in trying to move the Boston City Council in creating a map a majority of us can approve, so we can get this on the mayor's desk in time to meet the deadline," said Councilor Bill Linehan, of South Boston, the Census and Redistricting Committee chair.
Linehan outlined the committee's goals based off the mayor's recommendations in his veto of the second map in September.
"We need to have at least four majority-minority voting-age person districts, create more African-American representation in District 5 and get the majority of councilors to approve," Linehan said.
Councilors Robert Consalvo, Frank Baker and Matt O'Malley put forth a map that a number of committee members called the best map presented yet.
"Using voting-age population, citizen voting-age population and unpacking District 4 [criteria], I think the Consalvo, Baker, O'Malley map goes in the right direction to do that," said City Council President Stephen Murphy. "If you don't go down the road to unpack District 4 in a more substantial way, we're facing a mayoral veto and the clock is ticking."
City Councilor Michael Ross, of the Fens, who represents District 8, echoed Murphy's statement.
"I think this map has come the closest to what we want, and that includes the maps we've voted on," Ross said.
The next step, Linehan said, is to field recommendations for specific amendments to the map, which will be made at Wednesday's City Council meeting.
From there, the council would vote on the amended map. Should it receive a majority of seven votes, it is then submitted to the mayor for his signature or veto.
"Clearly we're responding to the mayor's veto," Linehan said. "We're absolutely positioned to meet some of the rhetoric and definition put in the veto."
City Councilor Charles Yancey, of Dorchester, whose district includes hotly contested Mattapan, proposed another map to the committee that removed one precinct from District 9, and re-uniting Mattapan, which was divided in last decade's redistricting map.
More than 30 people sat along the outside of the Curley Room holding and wearing shirts reading "Reunite Mattapan."
"Mattapan was very callously split 10 years ago," Yancey said. "I have been trying to put Mattapan back together [with this new map], because the people of Mattapan deserve better."
At-Large Councilor Ayanna Pressley, however, voiced her concern with saying that the redistricting process "betrayed" citizens or that they "deserved better."
"I represent all 22 neighborhoods. I'm not in the business to betray anyone," Pressley said. "We're taking a painful step now to create a vision for the future."
After the meeting, Roxbury resident Regina McClay told The Daily Free Press she was disappointed with the councilors' meeting and that their efforts lacked essential information.
"People lacked the necessary information to make key decisions today," McClay said. "If you're not looking at the economic information, you're still going to have poor communities by not looking at the poverty levels."
City Council is constitutionally obligated to re-draw the map of its nine districts every 10 years to represent population and demographic changes throughout the city's neighborhoods.
The process for the forthcoming map, due on Nov. 5, has been a long time coming.
Councilors began work in 2010, Linehan said.
The map must be in place one year prior to City Council elections, so candidates for each district can move into their respective district should they be displaced by newly drawn boundaries.
"We have eight days prior to the mayor returning and to get this done," Linehan said. "We need to talk about specific changes and come up with resolutions to changes maps."
The result, however, will ultimately benefit the citizens of Boston, Pressley said.
"The goals here have everything to do with morality, mathematics and the constitutional mandate," Pressley said, "but above all, morality."