While the Boston Public Health Commission's safety campaign claims bicyclists face no excuses for ditching their helmets, a number of riders and experts had varying reactions.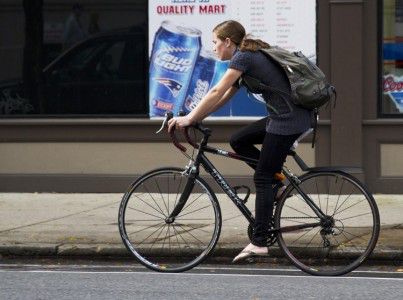 The campaign includes advertisements posted along busy streets in Boston, including along Commonwealth Avenue. One poster features a man wiping his bloody face with a caption, "Still think it's the helmet that's unattractive? There are no good excuses."
The campaign also implemented bike lane markings showing a man's head wearing a bicycle helmet with the phrases, "No Excuses, Wear a Helmet."
A number of cyclists and biking experts said the campaign might not be the right way to promote helmet use.
"While I agree with the idea that we need to encourage helmet use, I don't think a scare campaign is the right way to go because it actually has the effect of scaring people away from cycling," said Pete Stidman, the executive director of Boston Cyclists Union.
Edward Skipka, a cyclist of six years, said he questioned the campaign's methods.
"I would support the message that they are trying to send, but I don't know if I fully support the way they're going about it," he said.
But Steven Purcell, a graduate student in Boston University's School of Public Health and a cyclist, said the campaign might help bikers.
"I think personally I'm okay with the ads," he said. "Scare tactics work for certain health campaigns. It might make people think twice."
Regardless of their opinions on the campaign, Boston bicyclists still admitted that city biking could be dangerous.
"I've had one friend that was blindsided by a car at about 3 a.m.," Skipka said. "And he was thrown from one side of the intersection to the other and he landed on his side … and his helmet cracked in half. His head did not."
Purcell, a graduate student in BU's SPH and a cyclist, said bicycle accidents seem pretty common in Boston.
"Urban biking is pretty dangerous," he said. "Pretty much everyone I know has been hit by a car in some way. Some were wearing helmets, some were not."
Many cyclists said there were a variety of different ways the campaign could go about spreading its message.
"They should expand on that and say there are cheaper alternatives to finding a helmet that don't look stupid," Skipka said. "Showing the alternatives, that it doesn't look stupid, doesn't cost a lot of money and it doesn't feel like a brick on your head is a good way of going about it other than saying you're going to get hurt."
Stidman said the Boston Cyclist's Union promoted a different type of helmet advertising than scare tactics.
"The first thing we told them [the Boston Public Health Commission] was that we think that things like ads that might mimic peer pressure, or using role models to promote helmets, or humor would be really affective and promote biking at the same time," Stidman said.
Kristopher Carter, the interim director of Boston Bikes, said there are a lot of ways to improve bicycle safety in Boston.
"Some of those [are] engineer-related and providing more bicycle facilities, and some of those are education-related," he said, "whether that's doing a helmet campaign or sending out flyers like we do now about how to interact safely with cyclists."
Mark Vautour, the store manager of Landry's Bicycles, said it would be a good idea to focus on promoting bikers in addition to promoting helmet safety.
"If I were trying to make the road safer for riding, I would probably focus on getting more people on bikes, because as drivers become more aware of bike riders, they tend to look for them," Vautour said.
Stidman said there are infrastructural and educational concerns to focus on as well.
"The primary concern of bikers right now is better infrastructure and, often we hear, driver education," he said. "Because oftentimes what is causing the accidents is street design, or drivers, or sometimes actually cyclists who don't understand how to be safe on the road."