This is the first in a two-part story in the youth vote series focusing on absentee voting.
Had it not been for his mother, James Ferritto would not have been able to vote this November.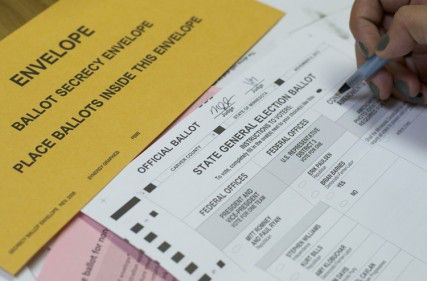 Before heading off to Boston University in August, Ferritto's mother took him to their local election office to register to vote in person. Ferritto, a sophomore in the College of Arts and Sciences, is originally from Michigan, one of three states requiring first-time voters to either register to vote in person or to vote in person, a stipulation not easily met by voting-age students attending college out of state.
While submitting absentee ballots gives students attending college out of state an opportunity to have their voices heard back home, discrepancies between states' registration deadlines can lead to confusion and students missing out on their chance to vote.
Of the 39 million people who voted before Election Day in 2008, 52 percent reported doing so via absentee ballot, according to the U.S. Census Bureau's report on voting and registration in the 2008 election. In 1979, the Supreme Court ruled students have the option to register to either vote in their home state by absentee ballot or in the state they attend college.
Like Ferritto, College of Engineering junior Nicole Black is also a Michigan resident, and despite attempting to register to vote this fall through Rock the Vote, is unable to vote in the upcoming elections because she cannot make it home to register to vote nor vote on Nov. 6 in person.
"I don't think that's really fair [to have to register to vote in-person to obtain an absentee ballot]," Black said. "There are a lot of friends that I know who go to college out of state and would be really interested in voting and being patriotic and wouldn't be able to do that because we can't exactly fly back to register."
According to the U.S. Census Bureau, of the 30 million citizens not registered to vote in 2008, 4.5 million said they did not meet registration deadlines. Of that 4.5 million, 21.3 percent are voters aged between 18 and 24, the highest proportion of all race-, age- or education-based classifications.
This is what Student Vote Project founder Michael Peshkin called another "evil example" of limitations placed upon student voters.
"All these restrictions, they have the effect of discouraging people from voting," Peshkin said. "Then we all whine about only having 40-percent [voter-] turnout while other industrialized countries do much better. Well, this is part of the reason why. Make it easy, and people will vote."
Fred Woodham, spokesman for the Michigan Secretary of State, said this process is necessary. In many cases, this type of registration would be to prevent in-person voter fraud, when individuals vote in-person on Election Day by impersonating another voter.
"It's to ensue the person who is registered to vote is that person," Woodham said. "That they are who they say they are."
Michigan's need to prevent against in-person voter fraud is unfounded, Peskin said.
"What you always hear about is that 'we have to have all these restrictive rules to prevent fraud.' And it's just not true," Peshkin said. "In-person voter fraud is just a fake issue."
An analysis of more than 2,000 cases of voter fraud since the 2000 election turned up 10 instances of in-person voter fraud according to a study conducted by News21, an initiative based out of Arizona State University's Walter Cronkite School of Journalism and Mass Communication and partnered with the Cargenie-Knight Initiative on the Future of Journalism.  This ultimately constitutes one case of fraud out of every 15 million prospective voters.
Ferritto said many of his friends from home who are also out of state missed their opportunities to vote in person before leaving for college for the semester, meaning they cannot vote in November.
"It's almost discouraging younger people to vote because a lot of people are away at school," Ferritto said. "I think they should definitely find an easier way [for students to vote absentee in Michigan]."
Woodham said Michigan's policy is simply an extension of federal rules requiring identification for registering voters.
"They [students] need to be aware of the registration deadlines here in Michigan and the responsibilities as a voter," Woodham said. "One of those is to make sure that they're registered in time and in the proper way."