AMHERST — The No. 13 Boston University men's hockey team battled back from an early 20 deficit Saturday night to top the University of Massachusetts Amherst for the second night in a row, this time by a score of 3–2.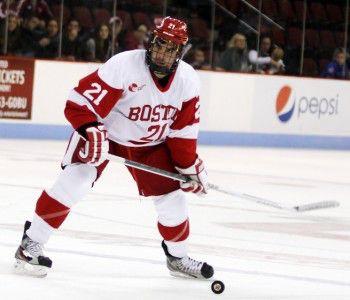 Senior defenseman Sean Escobedo — who celebrated his 22nd birthday on Saturday — gave the Terriers (3–1, 3–1 Hockey East) the win with a goal at 18:38 into the third period.
With time winding down and the game seemingly headed for overtime, freshman forward Danny O'Regan threw a shot on goal. A number of Terriers crashed the net but it was Escobedo who got his stick on the puck to stun a loud UMass crowd at the Mullins Center.
"Our top six [forwards] found a way to gut it out and get us on the board and obviously pull to 2–2, then to find the same way to do it, to go 3–2," said acting head coach Mike Bavis, who ran the Terrier bench this weekend with head coach Jack Parker out due to back problems. "Hopefully that's a strong statement about who we can be as a team going forward.
Neither team performed particularly well in the first period, though both goalies — freshman Matt O'Connor for the Terriers and sophomore Kevin Boyle for the Minutemen — made a number of nice saves.
UMass (1–3, 0–3 Hockey East) took a 1–0 lead 16:49 into the first when the Terriers turned the puck over behind their net during a Minuteman power play. UMass first-line right wing Shane Walsh took advantage, beating O'Connor stick side for the first goal of his collegiate career.
Massachusetts opened that lead to 2–0 just 1:06 into the second when UMass captain Rocco Carzo, who had been tripped driving to the net, converted on a penalty shot by putting the puck through O'Connor's five-hole.
BU narrowed the deficit to 2–1 when sophomore forward Evan Rodrigues sent a shot on net and his linemates poked at it until senior captain Wade Megan finally got it by Boyle at 4:52.
About 10 minutes later the Terriers tied things up, 2–2. O'Regan, fresh off his two-goal performance Friday night, fired a shot that junior forward Matt Nieto tipped for the goal at 14:46. Junior defenseman Garrett Noonan also collected an assist on the play, his second of the night.
For O'Regan, it was the third point in a four-point weekend in his debut as the second-line center.
"His hockey IQ is so high and he is playing with two very skilled players [Nieto and Rodrigues] that can make plays, like to make plays," Bavis said. "I would expect Danny's pretty safe there [on the second line]."
BU spent quite a bit of time in the penalty box in the first 40 minutes, tallying four penalties in the first and three more in the second. But the team quelled the temptation in the final frame, getting called for zero minors, setting the stage for Escobedo's birthday dramatics.
For the second night in a row the Terriers had a number of turnovers behind their blue line, including one that led to a UMass goal.
Bavis credited UMass' agility and aggressiveness — which rank amongst the best in the country, he said — but Escobedo said it was more of an issue of BU's not being clean.
"We were watching game film on them for the past weeks and we knew what to expect," Escobedo said. "We just weren't executing on our passes in our own zone, so it kind of looked a little sloppy. But once we settled down and got into the game I think we were able to control it."
O'Connor ended the game — his second start in a row over classmate Sean Maguire — with 34 saves, including 20 in the third period, to win his third college game in as many tries.
"His performance speaks for itself," Bavis said of O'Connor. "He had a lot of Grade-A stops, back-door stops where he really had to move laterally and did it really athletically … Matt's clearly shown some confidence, a lot of poise in the net."