One year after the car accident that left Boston University professor Thomas Kunz with a seemingly debilitating brain injury, he has shown astounding improvement, members of the Kunz family said.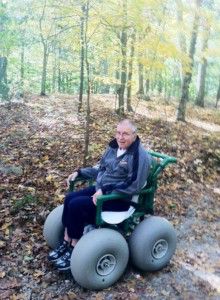 "It has been a year since Tom's accident — and he has made remarkable progress considering the severity of his injury," his daughter, Pam Kunz, said in an email interview. "The support from Tom's extended family of international friends and colleagues has been incredibly uplifting."
His wife, Margaret, spends her time reading him the paper and letters or messages of support from his Caring Bridge blog, Pam said.
Kunz has moved from facility to facility as his needs change and condition improves, Pam said.
Kunz is staying at NeuroRestorative, a brain and spinal cord injury rehabilitation center, in Raynham, Pam said. He works daily on speech and physical therapies along with five other patients.
"He is very motivated during his [physical therapy] sessions and can walk with a walker while supervised," Pam said. "He still needs constant supervision to prevent falls."
She said he is able to maneuver himself around the house in his chair.
Known as the "Bat Man," Kunz has influenced students, faculty and researchers throughout the world. Some of his work has revolved around a dramatic foretelling of the mass extinction of the little brown bat, which is still on his mind.
"He still likes talking about bats and will often talk about various projects and grants that must still be on his mind," Pam said.
A former student of Kunz and current colleague, Kristin Radcliffe, said she was devastated when she heard about his accident.
"He was the most energetic, alive, happy man," Radcliffe, center administrator of the Center of Ecology and Conservation Biology, which Kunz founded, said. "You could not ask for anything better. It's great to hear that he is doing well and we can only hope for the best."
Radcliffe said Halloween, when Professor Kunz would dress up as a bat and run around flapping his wings, was always his favorite time of year.
"We miss him here, and we hope he and his family are doing well," she said.
Michael Sorenson, chair of the biology department, said faculty members are trying to continue Kunz's work in the CECB and support his graduate students in finishing their degrees.
"Although he's been at BU for 40 years, he was really the life of the biology department," Sorenson said. "He was still one of our most productive and well regarded researchers. Where a lot of people were winding down, he was speeding up."
Sorenson said Kunz's situation is a sad and unfortunate one.
"He's making progress, and it's slow," he said. "But he's getting better, stronger and his memory seems mostly intact. He recognizes his family and still has that twinkle in his eye."
The Caring Bridge blog, set up by his family, keeps his students, coworkers and extended family informed daily on his progress including stories on outings with his family and treatment he receives.
On Oct. 27, the one-year anniversary of his accident, his wife posted, "Today has been the one-year anniversary of Tom's accident; it doesn't seem possible! Thanks to all of you who have supported us; you have made the journey easier."
Pam said it has been an incredibly difficult year for the entire family.
"There have been a lot of ups and downs and we are really hopeful for a better year," she said. "Though my dad is a different person since the accident, we continue to hope for some small improvements and that his life will be filled with whatever happiness and joy we can bring him."