Armed with its second consecutive Team of the Week title, the No. 3 Boston University women's hockey team faces No. 8 Boston College at Walter Brown Arena on Wednesday.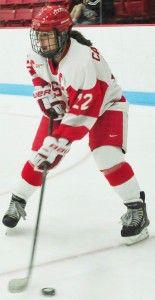 "I know they'll be ready to play," said BU coach Brian Durocher. "For whatever reason, they've had luck over here and we've had luck over at their place. They're coming to a building where they've had success, and we're going to have to bring our A-game."
When the two teams met on the ice on Oct. 5, (7–1–0, 3–0 Hockey East) defeated BC (2–3–0, 1–2–0) 4–2.
"They're a talented team who's already played some competition — a couple games with Minnesota-Duluth," Durocher said. "We had one exhibition game against McGill [before we played BC last], which might have given us a slight advantage. They've got a little bit of a younger team than us and having those games will help them."
BC's team includes six true freshmen while BU's roster includes seven.
However, freshman forward Sarah Lefort became the first Terrier to record two goals in her collegiate debut, in the team's season-opening victory over Boston College on Oct. 5.
Freshman forward Jordan Juron also scored her first collegiate goal against BC in the team's opening victory.
"[BC is] going through a little bit of growing pains. I've looked at their lines in the different games — they've made some adjustments and put people together with different people," Durocher said. "Sometimes it takes time to get a bit of chemistry."
Durocher said senior forwards Jenelle Kohanchuk, Isabel Menard and co-captain Jill Cardella have exhibited exceptional skill this season.
Cardella and Menard have thrived in their roles as playmakers on their lines, each totaling eight assist on the season. Menard has scored three times while Cardella has scored twice on the season.
"We've got the good fortune of having three fantastic centers who are all seniors. They're not only great players, but highly experienced players," Durocher said. "They sort of steer the ship here."
But Durocher said the seniors are not BU's only power players. The Terriers have experience throughout the roster.
"[Defensemen] Shannon Doyle and Caroline Campbell, who are juniors, have been around college hockey for a couple of years. Shannon being the transfer and Caroline being a redshirt, who then played forward, but now is back to her natural position," Durocher said. "Last year sometimes we had a little more individuals sticking out, but I think this year we're playing hard as a team and that shows up on the ice and it shows up on who's making it to the score sheet."
The younger members of the Eagles should be taken seriously, too, Durocher said.
"Alex Carpenter and Emily Field, who are both sophomores, had really top shelf years last year — they're US National Under-18 players," Durocher said. "On the backline, you've got Blake Bolden, who's one of those kids who's always teetering on the edge of the Olympic team."
The Eagles have scored 15 goals during their season, but Durocher said their strength is in their defense.
"Their defense likes to get up in the play and rush the puck," Durocher said. "Every time they get a hold of it, we have to make sure we're keeping them out of the middle of the rink, pushing them out to the outside and slowing down their offensive progression."
As a fast team, BC has historically faired well on the quick Walter Brown ice.
"I expect to see pace. This rink here plays out a lot quicker than over at Boston College. For whatever reason, the ice isn't quite as crisp over there, and it's a warmer building, since it's bigger," Durocher said. "We're going to see a hungry Boston College team. We got the win the first time around. They're a talented team, a well coached team and obviously a proud team, so I know they're going to be bringing their A-game."
The game stretches far beyond a hometown rivalry and Beanpot bragging rights. Durocher said it could also affect the Hockey East and national standings.
"It's another one of those pivotal games when you look at A, Hockey East, B, national rankings and C, what's going to happen at the end of the year and all the big rankings," Durocher said. "It's one of those games that has a lot of different meanings to it, and if you win this game, then you basically win the season series and would have the advantage of a tiebreaker against BC in Hockey East.
"It certainly puts us in good shape, and it would be a great way to finish the month of October."