This is the second in a series on absentee voting within the youth vote series for the 2012 election.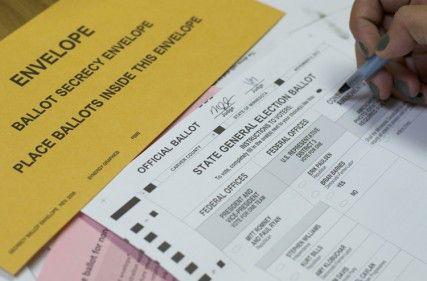 The decision to vote absentee or to vote in-person is an important question come election season for the 10s of thousands of Boston University students from cities and states outside of Boston.
The U.S. Census Bureau's report on voting and registration in the 2008 election found that in the last presidential election, of the 39 million people who voted before Election Day, 52 percent reported doing so via absentee ballot. Students are legally allowed to have the option to register to vote in their home state via absentee ballot or in the state in which they go to college.
According to a 2009 study co-authored by Peshkin, that decision to vote absentee can have a significant impact on elections' outcome in swing states. During the 2008 election, 330,000 students from 15 swing states attended college in non-swing states, giving those students the potential to swing an election should non-residents decide to vote in state as opposed to absentee in their home state.
Peskin also found students often preferred to vote in their home state by a 2:1 ratio. If the student is from a swing state, the ratio climbs to an 8:1 preference for absentee voting in their home state over local voting.
College of Arts and Sciences Freshman Rosie Bauder will vote absentee in New Jersey, her home state. Bauder said she felt her "vote would matter more back home."
"I know the candidates better, I know the issues a bit better, I think I care a lot more about the issues that are being voted over in my state," Bauder said. "I live here, but I'm a Jerseyan at heart, so it wasn't too hard to vote absentee.
Brian McKniff, spokesperson for Secretary of the Commonwealth William Francis Gavin, said he could not comment on the effect of absentee voting on elections because the Commonwealth does not track that specific information.
College of Engineering Freshman Alex Wong said his decision to vote absentee in California was based on the ballot issues, specifically a proposition designed to balance the state's budget while preventing cuts to education funding.
"I have a lot of friends there and I grew up there, and I really don't want to see education go down farther than it is, so I really want Prop 30 to pass," Wong said. "So I registered absentee in California."
Wong held a similar reasoning behind voting absentee to Bauder.
"I would have loved to walk in and just vote in a voting booth, but I'm in Boston so it's pretty hard to do that," Wong said. "So it really depends on whether or not they [voters] want convenience, like they can just vote here and send things in the mail, or they want to make a difference for their state and vote in their state as an absentee voter."
Matt Wolfson, a CAS senior, said although he is a registered voter in his home state of New Jersey, he has yet to apply for an absentee ballot.
"I kind of got caught up with school work and work, and it was always one of the things on the back of my mind," Wolfson said. "And just between midterms and everything, I just haven't gotten to it. It's bad."
However, Wolfson still has time. To receive an absentee ballot in New Jersey, the County Clerk must receive the application seven days prior to the election, according to the NJ Secretary of State website.
Because voting falls under states' jurisdiction, absentee ballot applications and deadlines differ from state to state. These discrepancies often create confusion for voters, and can be a significant deterrent for voters.
School of Education Junior Caitlin Anderson said while the voter registration process did not deter her from voting, it did affect her decision to vote in Massachusetts over her home state of Connecticut.
"I just chose to vote here because I thought it would be easier," Anderson said.
Student Vote Project, based out of Northwestern University in Evanston, Ill., is the brainchild of Peshkin, an engineering professor at Northwestern. The non-partisan organization, founded in 2008, provides information for groups looking to organize voter registration drives, along with a swath of research on student voting trends, including absentee voting.
One of Peshkin's main findings debunks the notion college students are often disinterested in voting.
"Students have the reputation for being not very good voters," Peshkin said. "It's, 'Oh old people are more diligent voters, they must care more about elections and how the country runs and those students are just silly thinking about themselves only-myth,' and it's really just a myth. Students who do register do vote."
CAS senior Rebecca Rutenberg recently organized a voter registration drive with her sorority Omega Phi Alpha, signing people up to vote at a table in the George Sherman Union. This type of outreach is the most effective in getting students to register to vote, Peshkin said.
"When you walk up to somebody, there they are getting fries and a hamburger, and you walk up to them and you say, 'Are you registered to vote? Would you like to do it right now? We'll even send it in for you,' virtually everybody does it," Peshkin said.
College of Communication Senior Chandler Lynn said person-to-person voter registration is the reason he became registered to vote in Massachusetts.
"I was handed a few brochures that I just filled out and sent in," Lynn said. "It was really easy. I wouldn't have [registered] otherwise."
Rutenberg said the sorority registered about 45 BU students to vote in Massachusetts, and was impressed with students' overall sentiment, no matter their decision to vote absentee or registering to vote in Massachusetts.
"There was no one we spoke to that was really anti-the idea of voting, that said 'my vote won't make a difference,'" she said. "Everyone seems motivated to go out and vote on the issues that are important to them, and it's really refreshing to see that."