Gabriela Pabon, a College of Arts and Sciences sophomore who was born in Puerto Rican, said that while she would not mind Puerto Rico becoming a state, she worries the people would lose their culture.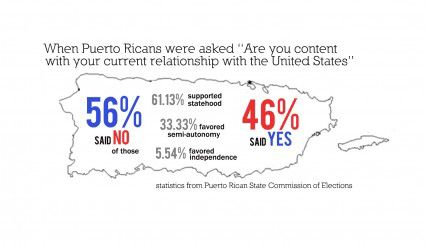 "The way of life in mainland United States is very different than in Puerto Rico, and my biggest fear would be that our traditions would eventually be erased," she said. "In Puerto Rico, people are a lot more laid back and are very warm. I feel like people in the U.S. are more concentrated on the individual, while people in Puerto Rico are more concentrated on the collective."
About 80 percent of Puerto Ricans voted in a referendum Tuesday that re-evaluated Puerto Rico's status as U.S., according to the Puerto Rican General Elections 2012 website. Fifty-four percent voted "no" when asked if they were content with the current relationship with the U.S. and 61 percent voted favoring statehood.
Thirty-three percent voted for Puerto Rican semi-autonomy, and 6 percent voted for complete independence.
Julian Go, a Boston University sociology professor, said the vote does not confirm that Puerto Rico will become a state.
"If you think about the history of these types of referenda, it's non-binding, so even if Puerto Rico votes to become a state, it's not going to happen necessarily," he said.
Go said the Puerto Rican statehood bid has been an ongoing matter for years.
"There's a whole history of a desire to become a state and at the same time, fundamental disappointment," he said. "There's a history of resentment and disappointment, and I think that history going back so far means that these votes are more symbolic than anything else."
Juan Pablo Cáceres, a Puerto Rican College of General Studies sophomore, said the referendum was illegitimate.
"It's more like a stunt that the previous governmental party did because they are pro-statehood," he said. "To get reelected for this new term, they tried to do this new plebiscite so … at least people would see it back home better than our current status [as a] freely associated state."
Cáceres said Puerto Rico's current status is damaging, but he supports independence.
"Right now our current status is worse than statehood or independence because we have so many limits that are imposed on, first, our economy," he said. "The development of our economy is really going downward from being [associated] with the American companies."
Taylor Boas, a political science professor, said Puerto Rico's current status has both benefits and drawbacks.
"The tradeoff is that Puerto Ricans don't pay U.S. federal income tax, they don't have voting representation in congress, and they don't have Electoral College votes for president," he said. "It's hard to say what would be better for them. It really is trading an economic benefit right now for being able to have a greater voice in politics."
The results of Tuesday's referendum suggest people are shifting toward believing a political voice matters more than economic benefits, Boas said.
Arlene Garcia, a CGS sophomore who was born and raised in Puerto Rico, said Puerto Rico should be a state.
"I hope that this does get more attention by the United States and by the Puerto Rican government," she said. "The governor that was elected doesn't believe in statehood. Personally, I think the issue will be pushed under the rug as soon as next year starts because of the politicians that were elected."
Pabon said if Puerto Rico were to become a state, she hopes more Puerto Ricans take advantage of education in the U.S.
"We do have a good education in Puerto Rico, but I feel like you get exposed to so many different people and so many companies [in the U.S.]," she said. "The United States has been globalized in so many ways and many in Puerto Rico don't see it."