Coming off of a three-game winless streak, No. 7 Boston University women's hockey will meet Providence College at Walter Brown Arena on Friday for a rematch of the 2012 Hockey East Championship Game.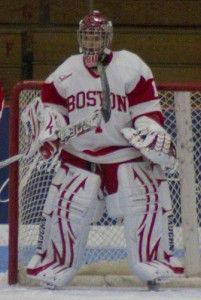 The Terriers took the league title during the 2012 season and the at-large bid to the NCAA tournament after then-captain Jenn Wakefield scored the game-winner in double overtime in Hyannis.
Junior goaltender Kerrin Sperry held the Friars to a single goal through more than four periods, stopping 31 shots in the dramatic victory.
BU entered its last matchup with Providence on a six-game winning streak. This time around, BU is struggling in the three games entering its matchup with the Friars.
"There's been a long wait from last Friday to the following Friday, so I think myself and the team are anxious to get back after and try to play well in all three zones," said BU coach Brian Durocher. "I'm looking forward to us trying to get ourselves back in the win column and play a good hockey game."
Durocher said BU (7–3–1, 3–2–1 Hockey East) has been in a bit of a slump and the Providence game can be a good opportunity to prove itself within the conference.
"We've got to make sure that we're a little harder to play against. We've been talking about that in practice. We've been demanding a little more in practice," Durocher said. "Hopefully we'll follow suit."
In the last three games, BU has given up 16 goals. Durocher said the entire team needs to improve in each area of the game.
"We've given up too many goals. We've scored as many as we'd like to score," Durocher said. "Our special teams have been average lately. We were outstanding in penalty kills last year, but we haven't quite delivered this year. Our power play has been behind expectations."
Durocher said Providence (7–4–2, 5–1–1 Hockey East) is most known for the size of its players and its consistency throughout each season.
"They have some big players who really go to the net well offensively, and they defend in front of their net well," Durocher said.
Durocher said senior forward Nicole Anderson, junior forward Corinne Buie and sophomore forward Haley Frade will be significant factors in the game.
"As the game of women's hockey has evolved, Providence has never fallen off the map," Durocher said. "There's some storied programs who've had ups and downs. You can look at UNH, Northeastern, Brown, Maine — to some extent — but head coach Bob Deraney has always kept their team on an even keel.
"They may get ahead, they may get behind, but they never get rattled, and that's a compliment to how he prepares them."
Coming into the game with similar records, Durocher said it will take an extra effort from BU to defeat Providence.
"It's going to be a battle of our team having a pretty good amount of ability, but do we want to get dirty?" Durocher said. "Do we want to be hard to play against?"
Durocher said he wants to return to the performance that he saw in the beginning of the season, when BU started with a five-game winning streak.
"A short time ago we looked like we were in a good position, and all of a sudden we're apart of the pack. You win a couple games in a row, and all of a sudden you can separate yourself," Durocher said. "The same can be said for Providence — if they get the win, they move forward.
"Before you know it, a 21-game season is pretty quick and pretty short when it's all said and done."
Durocher said Friday's game will be important in terms of preparing the team for its matchup on Nov. 18 against No. 6 Harvard.
"We've got to take care of business and do ourselves well by the Hockey East schedule," Durocher said. "And then start to look ahead to the next game, which not only has local bragging rights, but has national implications as well."