The No. 11 Boston University men's hockey team accomplished what no other team had done in more than 10 periods against No. 5/6 University of New Hampshire — score on goaltender Casey DeSmith — but it was not enough, as the Terriers lost to the Wildcats, 3–1, at Agganis Arena.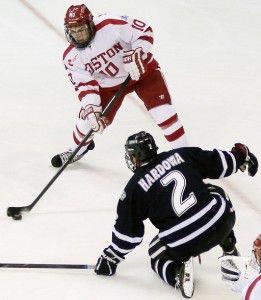 Freshman goaltender Matt O'Connor allowed a pair of first-period goals for the first time in his career Sunday afternoon, resulting in his second straight loss.
"UNH was the much better team this afternoon," said BU coach Jack Parker. "We came into this game not ready to play …
"We've been moving the puck extremely well in every other game we've played this year so far and we just fumble bumbled the puck all over the place today."
The Terriers' energy and focus was underwhelming from the start, as they gave up 20 shots in the first period alone. BU(6–4, 5–3 Hockey East) failed to capitalize on its seven power-play chances.
The home team outshot the Wildcats (8–1–1, 6–1–1 Hockey East) by a 46–35 margin, but DeSmith continued his hot streak to up his save percentage to .961 and lower his goals-against mark to 1.19.
Parker could not explain why BU got off to a slow start.
"No idea. Happens all the time," Parker said. "Maybe they thought they were playing pretty well after a pretty good effort in Vermont, maybe they were full of themselves. I have no idea. If I knew that, I'd make a lot of money."
UNH picked up where it left off the last time the teams played — a 4–1 Wildcat win on Oct. 20 – by taking a 1–0 lead at 11:34 in the first. Senior forward Ryan Santana had a defensive-zone pass tipped right to UNH junior Kevin Goumas, who swiftly got it by O'Connor for his first of two tallies.
The Wildcats soon doubled that lead at 14:10. O'Connor made the initial stop on UNH defenseman Justin Agosta's shot, but freshman Maxim Gaudreault snuck the rebound through O'Connor's legs for his first career point.
BU cut the deficit in half when its two most productive freshmen — defenseman Matt Grzelcyk and forward Danny O'Regan — connected at 4:40 in the second. Grzelcyk brought the puck down the right wing, skating through several Wildcats in the process. DeSmith stopped Grzelcyk's shot from the circle, but O'Regan found the rebound in the slot to make the score 2–1.
Grzelcyk's assist was the ninth helper and 10th point of his rookie campaign.
"We don't have to tell [Matt Grzelcyk] to go make something happen," Parker said of the Charlestown native.
"He makes something happen a lot," he added. "We want to make sure he knows he's a defenseman first, but he's been generating a lot of offense for us. I have no qualms for him on either end of the rink."
The Terriers failed to score in the third period despite taking another 17 shots on net. Goumas added an empty-net goal with 0.1 seconds on the clock to account for the 3–1 final.
Even with the result, Parker noted a few players who he said impressed him, particularly the top two right wings, sophomores Yasin Cissé and Evan Rodrigues. The bench boss went as far as to say Rodrigues has "arguably been our best forward so far this year."
"The goals will come for those guys," Parker said. "They both played hard tonight."
Senior captain Wade Megan and Parker both spoke highly of O'Connor, who played well despite suffering his second loss in as many weekends after starting his collegiate career with five consecutive wins.
O'Connor's 32 saves and two goals allowed puts his save percentage at .939 and goals-against average at 1.91, still amongst the league leaders.
Megan said the onus of the loss was on the players in front of the netminder.
"It's a lot of physical mistakes, mental mistakes," Megan said, his arms crossed and voice lower than normal. "Just a lot of mistakes all over."