Boston University's recent renovations, additions and awards are part of a series of ongoing improvements the administration is making to improve BU's already established image, officials said.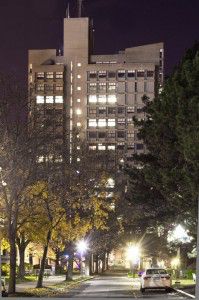 "We are working toward improving the quality of the university, and these are important benchmarks along that pathway," said University Provost Jean Morrison. "We have further to go and we'd like to go faster."
Projects and achievements, such as the Center for Student Services, renovations the School of Law building, the Campaign for BU, membership in the American Association of Universities and BU Athletics transition from the America East Conference to the Patriot League are improving the quality and reputation of BU, Morrison said.
"Every year, the university tackles a couple of big renovation projects," Morrison said. "We're continually working to improve the quality of physical infrastructure. It shows up not only in new building renovations, but also in existing buildings."
She said it is not a coincidence that recent changes and renovations to BU's physical campus, academics and athletic programs have happened at the same time.
"A lot of the credit for these changes and the ability to accomplish these important goals goes to President Brown," she said. "It's his seventh year as president. His leadership is behind all of these really important benchmarks that the university is achieving."
As far as academic changes, Morrison said, the colleges constantly undergo curriculum reviews and assessments to answer the needs of students today. Additions to the faculty were major factors in the improvements to BU's image, she said
"The quality of an institution and its reputation is a reflection of the quality of its faculty," she said. "We have excellent faculty at BU and are continuing to hire new outstanding faculty."
Morrison said BU's new membership to the AAU, an organization that consists of 62 colleges and universities, is an indication as to how others recognize BU as one of the more elite institutions in the academic world.
In June, BU Athletics announced it would leave the America East Conference in favor of the Patriot League, a move that BU Athletics Assistant Vice President and Director Mike Lynch said helped boost BU's standards.
"The Patriot League is well recognized as being one of the best conferences for combining academics and athletic success," he said. "We're known for our athletic success, but we also want student athletes to achieve high marks in the classroom."
Athletics has a big impact, both positive and negative, on how people perceive a university, Lynch said.
"Athletics is a part of your front porch," he said. "It plays a powerful role in the image of the university, and can be a powerful tool. This partnership [with the Patriot League] puts BU in a position to improve that image."
Lee Jennings, a School of Hospitality junior, said that with many attractive schools BU has to continue to improve to compete with them.
"They want to seem more cutting-edge, because we do have competition, especially in Boston and in the northeast region," she said.
Jennings said the improvements and publicity of BU are helping attract new students to the university.
"Especially prospective students looking at BU and their parents love to see new buildings and newly renovated dorms — making the campus more attractive at face value," she said.
Peter Jasinski, a College of Communication junior, said while renovations in existing dorms are more necessary than other building projects, changes to the campus were both good and bad.
"In the last few years, BU has managed to continue to build the campus that it has been working on for the last probably 70 years," he said. "It has more of a community feel than four years ago."
Sam Straitz, a CAS sophomore, said BU is trying to improve their image, and she is impressed with the progress they have made.
"It's nice to have a vision for the school, and be working toward that vision in whatever way the administration deems necessary," Straitz said.