At his third and final lecture of the year, Boston University professor Elie Wiesel focused on questions of worth he faced after his recent experience with open-heart surgery.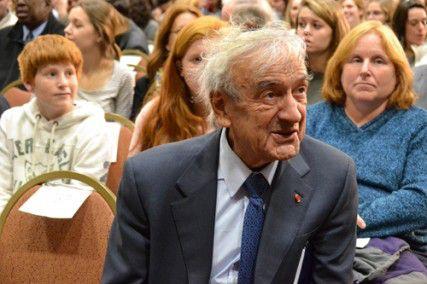 "Tonight, they will tell of a dangerous and painful period from my recent past," he said. "When I say they, I mean my words."
Wiesel read and analyzed passages from two of his most recent books, "Open Heart" and "Hostage," to hundreds of students and locals during his lecture "Contemporary Writings: Open Heart" in Metcalf Hall Monday night.
The lecture had been scheduled for Oct. 29, but was postponed due to Hurricane Sandy.
Rabbi Joseph Polak, director of the Florence & Chafetz Hillel House at BU, introduced Wiesel by describing situations in which one might question life's worth.
"A person being wheeled into the operating room in a life-death situation, it seems to me, will be facing this question as well," Polak said.
After learning he had five blocked arteries, Wiesel was rushed to the hospital for open-heart surgery in 2011. In the days following the successful surgery, Wiesel remained in the hospital recuperating and contemplating. He asked questions about the tragedies of his past, his medically weak state and what role God played.
"We cannot conceive of God with or without," Wiesel said. "We cannot think of those places if God is not involved somehow. Where were you, and why were you silent and different?"
Wiesel also unpacked the plot of "Hostage" in his lecture. In the book, an Arab and Italian take hostage Shaltiel Feigenberg, a Jewish storyteller, in the midst of the Israeli-Palestinian conflict. During his imprisonment, the character of Feigenberg writes of his experiences with the Holocaust.
"Although we do not live in the past, the past lives in us," Wiesel said. "And that, friends, is the theme of the novel called 'Hostage.'"
Wiesel said this story is also driven by profound questions of humanity.
"The intellectual question driving from the situation is timeless," he said. "Who are we? Are we meant to be God's prisoners or victims on Earth?"
Wiesel reflected on his accomplishments as an author and asking whether or not words are capable of making a difference. How could they, he asked, if the horrific events of the Holocaust had not wiped away racism?
"If there is an answer, you young students and your parents and your older friends, the answer is yours," Wiesel said at the end of the lecture. "And I accept it with deep gratitude."
Sargent College of Health and Rehabilitation Sciences junior Alvin Matthew said he became more acquainted with Wiesel by attending the lecture.
"It just really reaffirms the point that the world that we live in is a dark place and we need voices like his to reach out," Matthew said.
College of Arts and Sciences freshman Felicia Estrada said that, being Catholic, this lecture was more relevant to her than the other two lectures, which focused on Judaic teachings.
"It really connected to other students compared to the other lectures [this year]," Estrada said. "Since I'm of a different religion, it was harder to understand the lectures, but this one, it really connected."
College of Engineering freshman Isaac Metta said Wiesel's lecture was insightful.
"I completely loved it," Metta said. "It was fantastic. He's so wise. Everything he says — it's truly a pleasure to hear him."
CAS freshman Molly Skoff also praised Wiesel's ability to portray tragic situations in a positive light.
"He's very good at communicating with his audience how he felt," Skoff said. "He makes me hopeful that the future will be brighter."