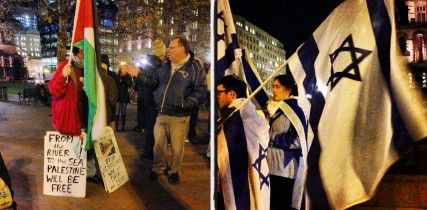 Waving giant Palestinian flags and shouting "Viva viva Palestina," more than 1,000 protesters marched from Copley Square to the Israeli Consulate Tuesday night, demanding a stop to Israel's actions against Palestinians.Protesters met on Copley Square, holding up signs that read "Israel Apartheid" and "Boycott all Israeli products." The crowd blocked traffic as it marched from Copley Square to the Israel Consulate on Park Plaza, marching by the State House and ending with more chants back in Copley.
The protest was countered by a number of Israel supporters at Copley Square, who waved Israeli flags and wore them over their shoulders. The group was not present throughout the entire demonstration.
Members of Northeastern University's Students for Justice in Palestine organized the march, which SJP members from Boston University also attended.
Max Geller, a first-year law student at Northeastern and a member of the college's SJP advisory committee, said the recent military actions in Gaza were the catalysts that sparked the group to organize the march.
"This is a demonstration about people, not about Hamas or Israel," Geller said. "It's about the people in Gaza who are dying."
Tala Borno, a third year Northeastern student also on the Northeastern SJP's advisory committee, said the problem with media coverage of the fighting in Gaza is that it does not articulate the Palestinian side.
"This is what we're trying to fight here — we're trying to raise awareness that the media isn't," Borno said.
Borno said most of the people dead in Gaza right now are women and children.
"They say that they're targeting terrorist organizations like Hamas but in reality they've only targeted, like, two men and the rest have just been casualties," she said.
Borno said she thinks there have been more than a hundred deaths by now.
"Were raising awareness about what's actually happening because no one's getting this information so we're taking it upon ourselves to tell everyone in the U.S. what's happening.
Leora Kaufman, president of BU Students for Israel, said she and a group of Israel supporters attended the march on Thursday.
"I was at the last SJP rally and was cursed at and called a racist," Kaufman said. "I didn't really appreciate being demonized for standing up for a country that's been a second home to me my whole life."
Kaufman said these kinds of rallies do not help the cause.
"We mourn the lives lost of both civilians from Gaza and from Israel, but we have yet to see really productive measures from SJP that really promotes dialogue," Kaufman said.
Kaufman said that if groups such as SJP prove that that their activities are to help the Palestinian people and not put Israeli in the spotlight as the aggressor, then BUSI would be willing to work with them.
"If we're talking about preserving human life and if that's what they truly care about, then we're completely on board to do some sort of peace initiative together," she said.
Keegan O'Brien, a University of Massachusetts-Boston senior and member of the International Socialist Organization branch at his college, said the U.S. funds crimes that Israel is carrying out against the indigenous population of Palestine.
"As taxpayers in this country we have a direct responsibility to the people of Palestine to do everything we can to stop our government from funding the egregious crimes that Israel is carrying out," O'Brien said.
Borno said the Northeastern SJP organized similar marches on Thursday and Friday that attracted a couple hundred people.
Borno said the police estimated about 1,200 people at the peak of the march on Tuesday night.