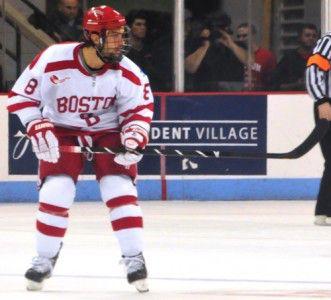 The St. Lawrence University men's hockey team has relied on star players, namely forwards Kyle Flanagan and Greg Carey, to create most of its offense during the 2012–13 season. When the Saints marched into Agganis Arena Saturday night, it was only fitting that it was No. 10 Boston University's depth forwards that propelled the Terriers to a 4–0 victory.
BU's (7–4–0, 5–3–0 Hockey East) third and fourth lines matched up against Flanagan and Carey frequently because of the way St. Lawrence (6–4–2) sent out its four lines. SLU coach Greg Carvel played his top three lines in order and mixed in his fourth line every other time through the cycle, creating some tough matchups for BU.
"Our third and fourth lines were out there against their top two lines a lot, and they played extremely well defensively," said BU coach Jack Parker.
Flanagan and Carey were limited to a combined four shots on goal and a minus-4 rating in the contest, in part thanks to the efforts of the bottom two lines. Senior forward Ben Rosen said the team's communication and awareness was key to holding the dynamic duo without a point.
"Coach [Parker] looks to our line always as a big defensive line with [senior forward Ryan] Santana and I," Rosen said. "We know as a fourth line that we have to be responsible and play defensive and we have to shut down their line.
"We were doing it and doing it, and I think Coach kept responding to that so it worked out well for us."
But the bottom two lines did not limit their efforts to the defensive end of the ice. Rosen and freshman forward Sam Kurker each added an insurance goal for the Terriers.
Kurker's goal, which was the first of his collegiate career, came at the end of the second period to widen the Terriers' lead to 2–0. Junior forward Sahir Gill, who had a slow start to the season on the top-two lines, made an end-to-end rush before sliding the puck to Kurker, who shot it through goaltender Matt Weninger's five-hole.
"It was great. The whole bench erupted when he scored," Rosen said. "Even Sahir Gill, when he was coming down, he could have had the shot, but he picked his head up and saw that Sam was there and would have had a wide open shot and he kind of knew in the back of his head it would have been his first."
Parker attributed Kurker's performance — his best in a BU uniform — to his increased confidence.
"He was a nervous wreck his first couple games," Parker said. "He was trying to figure out what he wants, where the coaches want [him] to go, what [he is] supposed to do. Now he's more comfortable with his assignments, and there's not that much for him to worry about now. He can go be Sam Kurker."
It was a key goal for the Terriers, who only put the puck past Weninger twice in 39 shots through two periods. The tally gave BU momentum going into the third period and kept the Saints at a two-goal deficit.
Later in the third, it was Rosen who put the game away with his second goal of the season. Senior assistant captain Ryan Ruikka took a slap shot from the slot that deflected off of Weninger's shoulder and fell into the crease. Before Weninger could find the puck, Rosen poked out his stick and pushed the puck into the back of the net.
Rosen's goal came while the fourth line was playing against the Saints' top line, which is a testament to the depth of the Terriers.
However, Rosen made sure to poke fun at the top-line forwards before he left the arena Saturday night.
"Obviously, if we are getting a goal against their first line then I don't know what our first line is doing," Rosen said with a grin. "They should be getting more goals."