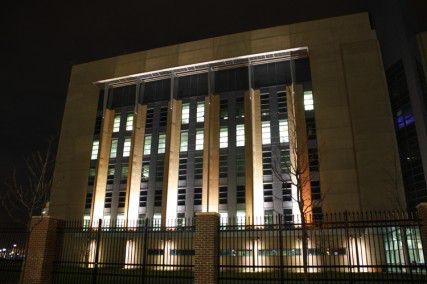 After Boston Medical Center exercised its right to regain its investment in the National Emerging Infectious Diseases Laboratories from Boston University, operations continue to run normally as the biolab awaits a risk assessment decision from the National Institutes of Health to be issued before the end of 2012.
The lab will not become fully operational until risk assessment reports have been approved and the lab certified, said Ellen Berlin, the BU spokeswoman for the NEIDL.
"We believe the process has been very thorough and it's very important so that community comments could be incorporated appropriately," Berlin said. "It's been a very fair and thorough process."
Though construction of the biolab was completed in 2009, there has been a great deal of controversy over the risk it presents to the community since its goal is to study dangerous and infectious Level 4 pathogens.
If it receives approval to do so, the biolab will study SARS, anthrax, Ebola, pneumonic plage and 1918 H1N1 influenza.
The NIH will review the risk assessment draft NEIDL issued in July, Berlin said. The Massachusetts Environmental Policy Act office then will need to issue certification.
After the biolab files an environmental impact report, MEPA will review it and issue its decision, she said. There are also federal and state law suits pending MEPA certification.
After these steps, the Boston Public Health Commission, the Centers for Disease Control and Prevention and BU's Institutional Biosafety Committee must still approve the research, Berlin said.
"I don't want to put a time frame on it because it involves other agencies," Berlin said. "But it is moving along at an appropriate pace."
The biolab was initially jointly owned by BU and BMC, Berlin said.
The NIH committed a majority of the money needed for the project, approximately $141 million, according to the BU 2012 Annual Report financial statements.
BMC and BU each committed approximately $28 million to construction. In return, each had 50 percent of the ownership of the biolab and shared the right to future operating activities of the NEIDL, according to the report. However, BMC's participation was considered a non-controlling interest.
"Infectious disease research is a priority for both institutions," Berlin said.
In May 2010, BMC notified BU of its intent to withdraw from the project as their agreement allowed, as of May 1, 2011, according to the report.
Under the agreement, BU will repay BMC its commitment of $29 million over five years.
BU is in the process of paying BMC back for its ownership piece as of 2011, Berlin said.
According to the report, the balance of the obligation as of June 30, 2012 is $23.3 million.
"The hospital made the decision as part of an overall review of its long-range financial investments and how best to continue to support the hospitals' core mission," said Gina DiGravio, BMC media relations manager, in an email.
The biolab opened for lower-level research related to tuberculosis in March, she said.
"That's really important public health research," Berlin said. "We're pleased some work in the laboratory has started."