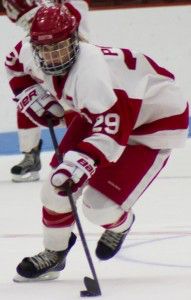 Coming off of a three-game winning streak, including a 6–1 exhibition win against the Russian National Team on Monday, the No. 7 Boston University women's hockey team will meet Providence College at Schneider Arena Friday at 7 p.m. and Walter Brown Arena Saturday at 3 p.m.
BU (9–3–1, 4–2–1 Hockey East) has the second most efficient offense in Hockey East, scoring an average of 3.69 goals per game on the season. Junior co-captain Marie-Philip Poulin and senior forward Isabel Menard lead the potent offensive attack.
Poulin ranks third in Hockey East in points and first in assists with 21 and 15, respectively.
Menard is the seventh best point-getter in Hockey East with 17 points. She also ranks second in the conference with 13 assists.
BU coach Brian Durocher said the team feels confident going into its game against the Friars (8–5–4, 5–2–2 Hockey East) having won its last three games, but it is important to be prepared for Providence's comeback.
"It's a fine line to be overconfident," Durocher said. "You look at the last time we played Providence, and it was not their best team by any means. [The Friars] will have readdressed the situation and be playing a lot better, so we need to make sure there's not any let-down or overconfidence going to Providence."
To curb its confidence, it is important that the team remains focused and aware of some of Providence's stronger players, Durocher said.
"We've gotten back to competing a little harder on both ends of the ice," Durocher said. "You watch the game, and kids look like they're working hard. They come off the ice a little bit tired, but just the focus of the competition is that little change of direction and little stop and start. It's not just about hustling back, but driving the net offensively."
According to Durocher, when the two teams last met, Providence was still in the process of adjusting to a new goaltender, freshman Sarah Bryant.
"[Providence] lost their all-world goalie, Genevieve Lacasse," Durocher said. "Bryant has done a nice job as a freshman, but it's a little different when you lose a kid who's the backbone of the team. It leaves a bit of a question mark."
Despite Providence's inconsistent record, Durocher said he tips his cap to Bryant, who has historically played well in the New Jersey and national circuit.
"[Bryant] is a kid they're counting on, but when you're using a freshman, it's a little bit different than having a really veteran like Lacasse," Durocher said. "I'll expect [Bryant] to do well, so we'll be ready to go."
Providence is also a younger team than BU. According to Durocher, BU's strength is in its experience.
"For a team like us — with players like [senior forward] Jenelle Kohanchuk, [senior forward] Isabel Menard, [senior defenseman] Kathryn Miller and [senior goaltender] Alissa Fromkin — we have juniors and seniors all the way through who are not only experienced players, but they're upper level players," Durocher said.
However, Durocher added that it is important to keep an eye on Providence as they grow as a team. Right now, there is a void in experience at Providence, but Durocher said they will continue to advance as teammates and players.
"Watch for them late in the year and as they go along as a group," Durocher said.
Last season, BU beat the Friars' more experienced team in the 2012 Hockey East Championships. The 2011-12 Providence team had seven seniors and four juniors.  This season, it only has four seniors and five juniors.
However, Durocher said he feels that the teams' past together is out of mind.
"I think the 2012 Hockey East Championship game is long behind us," Durocher said. "At this point, we're just focused on our first shift or first period or first game of the week. That's all you can really control. That game is a long way in the rear-view mirror."
After a week-long break, the Terriers will travel to play the University of Minnesota-Duluth for two games to close out 2012. BU's next conference game is Jan. 8 at the University of Connecticut.
"We want to make sure we do what we can to keep pushing forward, to get home ice in the playoffs, to try to win the regular season, and getting two wins is a lot better than a split or a tie," Durocher said. "We'll make sure we're ready to go both nights and keep establishing ourselves in the Hockey East standings."