Redshirt sophomore forward Yasin Cissé has left the Boston University men's hockey team, according to a team press release Tuesday night.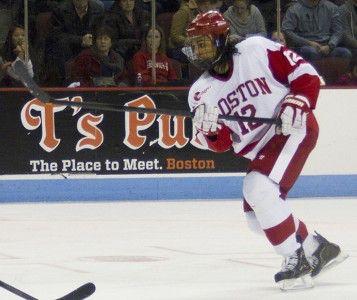 The 20-year-old forward had a tumultuous two-and-a-half years on Commonwealth Avenue, during which totaled two goals and five assists in 39 games while battling injury and confidence issues, both of which led to a struggle for playing time.
Cissé, a quick, 6-foot-3, 215-pound right wing, was highly regarded when arriving at BU, but a number of injuries limited him in terms of reaching his potential.
BU head coach Jack Parker, who would not comment Tuesday night, said on multiple occasions during Cissé's tenure as a Terrier that he could be a big-time point scorer for BU.
"Cissé is a candidate to make a big jump," Parker said in late September. "He's been away from the game for two years because of injury, one a really severe injury. He's playing with more confidence now than we've seen.
"I have no question he has the ability to be a very, very good player in this league and a guy that could get a lot of ice time for us. I think he's more mentally ready to do that now than he ever has been. Some guys are late bloomers because they're late bloomers. Some guys have injuries."
Count Cissé among the latter.
He missed much of the 2009–10 season and the all but one game of the 2010–11 season after injuring the same ankle twice.
He got off to a late start the following year, his first full one as a Terrier, due to a concussion. After shaking off the rust for a few weeks, Cissé got into the lineup 25 times, usually on the third or fourth lines, during the 2011–12 season. He finished with two goals and three assists.
Cissé was not content at times last season and reportedly left the bench early during a late January game against the University of Maine.
The Westmount, Quebec, native struggled points-wise throughout the first two months of his sophomore season, but had been on the first line the last few weeks and started to garner some time on the power play.
The BU release stated Cissé "has decided to pursue other hockey endeavors in his native Canada."
The Atlanta Thrashers, now the Winnipeg Jets, picked him in the fifth round (150th overall) in the 2010 NHL Draft. Cissé was also drafted by the Montcon Wildcats of the Quebec Major Junior Hockey League in 2008.
Parker praises York
In the final minutes of Saturday night's game, with then-No. 1 Boston College comfortably leading BU 5–2, the home crowd rung out a chant far more common on daytime TV than at Conte Forum: "Jerr-ry! Jerr-ry! Jerr-ry!"
No, the BC students were not chanting for Springer. They were cheering for York, the 19-year Eagles head coach who with the win tied former Bowling Green and Michigan State University coach Ron Mason as the all-time winningest NCAA hockey coach with 924 victories.
BU coach Jack Parker congratulated York at center ice after the game and afterward gushed with praise for his long-time friend.
"He deserves all the accolades," Parker said. "It's hard for people to believe this because he's been around so long and he's been so successful and he's won so many games, but I still don't think he gets the credit he deserves."
York got his start at Clarkson University, where he won 125 games in seven seasons. He then replaced Mason himself at Bowling Green, adding another 342 wins over the course of 15 seasons.
He returned to BC, his alma matter, for the 1994–95 season and has been there ever since. After a few seasons of mediocrity, York's Eagles have made the NCAA tournament 13 times in the last 15 seasons.
"He has done an unbelievable job making this program the best it's ever been," Parker said. "And this is a place where they've had two other coaches that have won 500 games, so this place has had a lot of good hockey for a long, long time.
"He's the best they've ever had here."
Grzelcyk selected to WJC preliminary roster
As has been the case in recent years, BU may be without one if its prominent young players during winter break.
USA Hockey announced Tuesday that BU freshman defenseman Matt Grzelcyk made the primary national junior team roster for the upcoming World Junior Championships. He will practice with the team for a week before the final roster is announced Dec. 23.
Should Grzelcyk make the team for the tournament, to be held in Russia Dec. 27 through Jan. 5, he will miss at least two BU games: at the University of Denver on Dec. 29 and at home vs. Rensselaer Polytechnic Institute on Jan. 4.
Team USA's final roster has included a Terrier each of the last five years, most recently Charlie Coyle and Adam Clendening on last year's team.
Hockey East honors Terriers
Hours after USA Hockey announced the news about Grzelcyk and the national team, Hockey East named him the league's rookie of the month.
Grzelyck continued his apparently seamless transition to the college game, putting up eight points and a plus-4 rating in November. Both of his two goals game against Boston College.
"He's been pretty poised since he arrived," Parker said of Grzelyck Friday after the rookie scored the game-winning goal against BC. "He's a pretty confident kid."
Additionally, freshman Sean Maguire was runner-up for goalie of the month. Maguire, who has in effect been BU's number two goalie this season, had a 1.68 goals-against average and a .942 save percentage in three November starts.
Hockey East on Monday honored sophomore forward Evan Rodrigues as co-player of the week for his three-point (two goals, one assist) weekend against the Eagles.
Gill/Ahti with strong games Friday
While it may not show in the box score, Grzelcyk and Rodrigues were not the only players with strong showings against BC. After Friday's 4–2 win, Parker singled out freshman defenseman Ahti Oksanen and junior forward Sahir Gill as having played particularly well.
"Ahti Oksanen had a great night, might have been his best night playing for us," Parker said. "I thought he really played sharp."
Parker has spoken highly of the Finnish import, an offensive-minded blueliner, for much of the season, especially after Oksanen won a consistent spot in the Terrier lineup.
Oksanen's five points (three goals, two assists) rank third among BU's seven non-goalie freshmen.
On the other end of the ice, Gill's move a couple weeks ago to the third line seems to be paying off.
While the point production may not totally be to Gill's liking, he has performed better when being paired with freshmen Wes Myron and Sam Kurker.
"Of all our forwards, Sahir Gill played the best," Parker said after Friday's game. "He had an unbelievable game, really worked hard [and was] great in the corners making some plays."
They're number one
The latest version of the national rankings came out Monday, and BU was slotted seventh in both the USCHO and USA Today versions.
It is the team's highest ranking all season.
The two other Hockey East mainstays, UNH and BC, stayed at the top of both polls, though this week they flip-flopped: UNH is now No. 1, BC No. 2.
So, when BU visits UNH in Durham, N.H., Thursday night, it will be the third straight game in which the Terriers play the top-ranked team in the country.