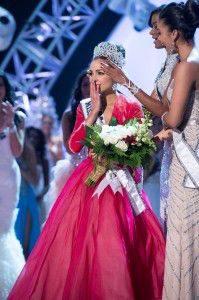 Olivia Culpo, a former Boston University student, said she will not return to BU after winning Wednesday's Miss Universe competition in Las Vegas.
"I actually will not be returning to BU," Culpo said in an interview with The Daily Free Press. "But it will always be a big part of my past."
In the upcoming year, she will be traveling the world as a spokesperson for HIV/AIDS prevention, she said.
Culpo, a former College of General Studies sophomore, became the first American to win Miss Universe since Brook Lee won in 1997.
She was victorious over 88 other women in the televised event, including Miss Philippines, Janine Tugonon, and Miss Venezuela, Irene Sofiá Esser Quintero, who placed second and third respectively.
"Miss USA hasn't won Miss Universe since 1997 so it's an honor," Culpo said. "Every single girl on stage could have had the ability to win the title. So to be chosen out of all of them was just really, really unbelievable."
Upon winning the two-hour competition, Culpo was crowned by her predecessor Leila Lopes of Angola, Miss Universe 2011.
The 61st annual pageant included swimsuit modeling, evening gown modeling and an interview segment in front of a panel of 10 judges. Culpo wore a long, full-skirted red velvet dress for the final rounds.
The competition was held at the Planet Hollywood Resort & Casino in Las Vegas and was broadcast live on NBC in more than 100 countries.
During the interview segment of the competition, a judge asked Culpo if she had ever done anything she regretted.
"I'd like to start off by saying that every experience no matter what it is, good or bad, you'll learn from it," Culpo said during the televised competition. "But something I've done I've regretted is probably picking on my siblings growing up, because you appreciate them so much more as you grow older."
Culpo is the middle of five children and calls herself a "cellist nerd," according to her Miss Universe biography. As the daughter of two musicians, Culpo began playing the cello in the second grade and has performed with Boston Accompanietta.
As the winner of Miss Universe, Culpo will receive an undisclosed salary, a clothing and beauty product supply and residence in a luxury apartment in New York City.
Culpo said she hopes to one day pursue a career in television or film.
In June 2012, Culpo was named Miss USA, beating 49 other competitors. Culpo was on a leave of absence from BU to fulfill her Miss USA duties while living in an apartment in New York City.
Culpo was on the Dean's List every semester while attending BU, according to her Miss Universe contestant biography.
As part of her Miss USA duties, Culpo serves as a spokesperson for both breast and ovarian cancer, working closely with organizations such as the Susan G. Komen For The Cure, according to her Miss Universe biography.
Culpo, who was born in Cranston, R.I., won Miss Rhode Island in October 2011.
"I can't believe that just one year ago I was competing in my first pageant and now I'm Miss Universe," Culpo said. "It just goes to show that you really can do anything you want to do if you work hard and have the right attitude."