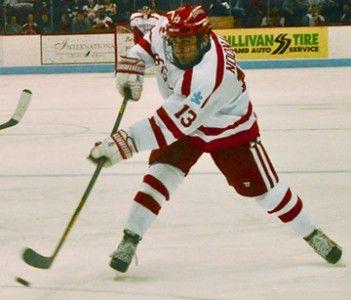 On Jan. 10, in the midst of a rough stretch in which the No. 11 Boston University men's hockey team is still mired, junior assistant captain Garrett Noonan walked into the small coaches' room for a post-practice, one-on-one meeting with BU coach Jack Parker. Noonan looked nervous.
"He had nothing to be nervous about," Parker said immediately after the meeting, which came one day after BU (12–9, 9–6 Hockey East) blew a three-goal lead to Harvard University before losing in overtime. "He has a lot of equity in his account. All that good playing from last year and all that great defense from first semester.
"But he's certainly struggling a little bit," Parker added.
Two weekends later, the Terriers are still stuck in a slump, most recently losing back-to-back games to Northeastern University Friday and then-No. 15/18 University of Massachusetts-Lowell the next day.
Parker said after Saturday's 4–3 loss to the River Hawks (13–7–1, 7–6–1 Hockey East) Noonan has been playing better of late, but it was in part his misguided actions late in the game — a five-minute major spearing penalty and game-disqualification — that killed the Terriers' comeback attempt.
The then-No. 9 Terriers had scored twice in the third to draw within one goal. But after Noonan was ejected 14:13 into the period, BU spent most of that time on the penalty kill.
"I haven't seen that from him in a while," Parker said of Noonan letting his emotions get the best of him. "Saw some of that last year once in a while. We'll figure that out."
However, Parker didn't offer any answers as to how, exactly, the team will "figure that out," and Noonan loosing his cool is not necessarily anything new.
Against Denver on Dec. 29 — BU's first game after its break, and the first game in this slide — Noonan repeatedly crosschecked a Pioneer late in the game before tag teaming him with junior defenseman Patrick MacGregor. Noonan got away without a penalty, but his frustration boiling over was evident with him playing the body and not the puck.
Friday vs. Northeastern, after BU scored three in a row only to see the Huskies reclaim a 6–5 lead, Noonan capped off the game with a five-minute slashing penalty with four seconds left.
The defenseman followed that up with an embellishment minor — a penalty that Parker abhors — before his spear Saturday.
"There's no place for it," said UMass-Lowell coach Norm Bazin of the spear. "And I don't know why you would take a penalty like that in that juncture of the game."
Although Parker said Noonan has been "terrific" leadership-wise since being appointed assistant captain at the end of the fall semester, Noonan has admitted to being frustrated with his own performance.
Noonan made a big splash in his sophomore campaign by netting 16 goals, tying him for second on the team, but this year the tallies have not come nearly as easily. Last year's familiar sight of Noonan flying down the wing to bang home a rebound or cross-slot pass has been much less common this time around, taking away a big part of the offensive defenseman's game.
Noonan and the Terriers will likely straighten themselves out, particularly with a relatively weak second-half schedule. Noonan has already matched his assist total from last year (11), and with 14 games remaining in BU's regular season, the Norfolk native has time to make up ground.
That number will be 13 at most for Noonan, though, who will have to sit out as a result of his game-disqualification when his team visits Providence College Friday.
As if anticipating Saturday, a somber Noonan sung a familiar song after Friday's loss.
"We will be better," Noonan said. "This team trusts each other and we are going to bounce back and everyone in that room believes."