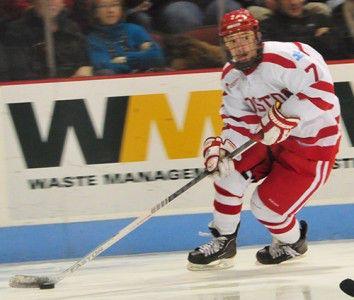 After its two losses last weekend, the Boston University men's hockey team fell from No. 9 to No. 11 in this week's USCHO.com poll and from No. 10 to No. 11 in the USA Today poll. The Terriers (12–9–0, 9–6–0 Hockey East) are also now tied with next week's opponent, Providence College, for third place in Hockey East after sitting alone in third for most of the season so far.
The Terriers' bad weekend was a good weekend for the surging University of Massachusetts-Lowell, which moved from No. 18 to No. 15 and No. 15 to No. 12 in the two polls, respectively, with its 4–3 win over BU.
Providence is not ranked in either poll, although it received 24 votes in the USCHO.com poll.
Always a plus to have  Hohmann on the ice
Sophomore forward Cason Hohmann leads the Terriers in plus-minus with a plus-17 rating. That puts him fourth in Hockey East and six points higher than the second-highest Terrier rating, which is the plus-11 of his linemate, senior Wade Megan.
Hohmann certainly is not an improbable candidate to lead that category, since he also leads BU in points (22) and assists (16). He is also tied for third in goals, with six, and has spent the year centering Megan, who leads the team and is tied for second in Hockey East with 12 goals.
It is also rare for Hohmann's line, usually listed first on the lineup sheet, to match up against another team's top-scoring line as often as BU's third or fourth line would, so it would be highly unusual for his plus-minus to be similar to that of seniors Ryan Santana or Ben Rosen, who usually are taxed with stopping opponents' best forwards.
That being said, Hohmann finished last year with a minus-3. His linemates and first-line time have made some difference, but the biggest factor has been him making the leap forward BU coach Jack Parker hoped he would make this year.
"He knows when to jump and grab the puck," Parker said of Hohmann. "He also makes himself available to his defensemen so they can find him on breakouts. He does a good job [on faceoffs.] I think he's our best faceoff guy. When you win faceoffs, you get possession of the puck. They don't.
"So I think that there's a whole bunch of reasons why he's a good defensive player, but I would say the reason he's a good player is that he's got talent and he's got a huge heart. And you play defense with your heart and your legs, and he's got both of those things big time."
Ever-shifting third line succeeding
Saturday's game saw Rosen jump from the fourth to the third line to center freshmen Matt Lane and Sam Kurker, while freshman center Wes Myron took a seat. Lane scored his second goal of the season that night, with Rosen assisting, and they were the only three Terriers to finish the game with positive plus-minus ratings.
Rosen went 8-for-11 in the faceoff circle, and was the only Terrier center to win the majority of his draws (out of those who took at least four). He also blocked two shots and continued to contribute to BU's penalty kill, which was pressed into service quite a bit for seven River Hawk power plays.
Despite spending 15:10 — nearly the equivalent of an entire period — shorthanded, BU only allowed nine shots and one power-play goal, which came on a 5-on-3 advantage for the River Hawks. None of the third-liners were on the ice for that goal, or for any UMass-Lowell goal.
"I thought Ben Rosen gave us a good game tonight," Parker said on Saturday. "Much of the third line played well tonight."
Noonan suspended two games
Junior defenseman Garrett Noonan received an automatic one-game suspension when he was called for spearing UML goalie Doug Carr late in Saturday's game. Hockey East announced yesterday that it would add another game to that suspension, meaning that Noonan will sit out both of this coming weekend's games against Providence. He will be eligible to return Feb. 1 against the University of Massachusetts if Parker decides that those two games are sufficient punishment.