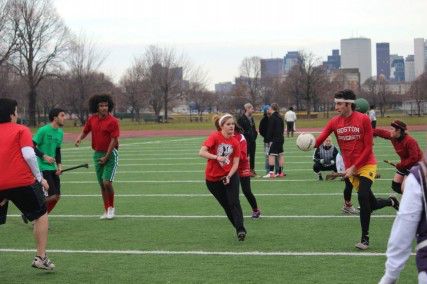 With all the classes, events, clubs and sports at Boston University, it can be hard for students to stand out. One way students can find a niche is to get involved in a sport, even an unusual one.
"With 16,000 undergrads, it's really hard to find your place," said Ashley Donahue, a Sargent College of Health and Rehabilitation Sciences junior on the Women's Rugby team.
Donahue said it is great to gain solid friends and build a community on and off the field.
"I was just looking for something to do when I was a freshman at BU," said Colin Carney, a College of Engineering senior on the Men's Rugby team. " GWiven the nature, you have to find a club or something to get involved in to get the full experience that you can."
Making the Transition
Many students, like Donahue and Carney, were looking for a transition from playing sports in high school to something new at BU.
"I did a lot of sports in high school, so [Quidditch] was a way to transition from high school sports," said Katrina Bossotti, a College of Arts and Sciences junior on the Quidditch team.
Many students like Bossotti are drawn to crossover sports, which combine two or more sports. Teams like Ultimate Frisbee and Quidditch, which are not well recognized find their following on college campuses.
A Lack of Recognition
Bossotti, like other players from Ultimate Frisbee and Rugby, had some knowledge of Quidditch, but was not clear on specifics.
"I've definitely encountered people that have been skeptical to what is Ultimate Frisbee," said Amanda Karakoudas, a College of Communication senior on the team. "As soon as someone watches a clip of high level Ultimate, you can see that it really is a real sport."
Some teams gain very little recognition from students unaffiliated with the team, as many are unfamiliar with the sport.
Members of the Quidditch team are faced with much more than indifference, said Erin Jansen, a CAS sophomore.
"It's kind of ridiculous [with] some of the hate that we get, but it's just because people don't expect how hard it  is," Jansen said. "They expect us to just be running around on brooms. We are, but there's a lot more involved."
Being Underestimated
Unusual sports like Rugby, Ultimate and Quidditch are often underestimated because there is a lack of knowledge about them in the community. "Personally, I thought Quidditch was weird," said Andrew Hartman, a COM junior on the Ultimate Frisbee team.
"But now I know a lot of people on the team and [when I took] the time to learn about it, it's no longer weird."
Where Quidditch can seem childish to outsiders, Ultimate Frisbee is often thought of as less of a sport and more of a recreational activity played on the beach.
"People who have no idea what it is decide [that it's about] tossing a Frisbee on a field," Karakoudas said.
Before Hartman began playing competitively at BU, he said he wasn't convinced that Ultimate could be pursued competitively.
"My first experience with it was recreational sport, just like other people. My parents are just coming around after two years," Hartman said.
Carney, however, said he feels like the Rugby team isn't acknowledged much by the BU community.
"No one knows about us really or how well we've done," he said. "Even when we did really well, no one really knew except for our friends. Our stands are fairly empty for our games for the most part."
Rising Above Stereotypes 
However, these teams do not let people's perception of their sport distract them from the game at hand.
"Quidditch is weird! You're running around on a broomstick. Yeah, it is weird. It's great though," Bossotti said.
Though Donahue has never encountered anyone who claimed rugby is not a sport, she said many students only recognize it as "the one where they all hit each other."
"They think we're a bunch of [girls] running around that want to smack each other to the ground, but it's not the case at all," she said.
Rugby isn't the only sport which has scored a false stereotype. Ultimate players said they are labeled as "hippies" because of their team.
"We try to come off representing BU in a club sport scene that is actually playing a sport," said Karakoudas. "We do have fun, I'm not going to lie, but we're not a hippie-crazed team."
Bossotti said many people assume that all Quidditch players are fans of the Harry Potter books, but not all players are as obsessed.
"I personally have never read all the books," she said. "I don't even know what happens in the end. Does Harry Potter die? I don't know!"
With the negative remarks about each team and their sport, it is easy to think that players would feel discouraged, but it has not hindered their performance or passion for their game.
They intend to push forward.