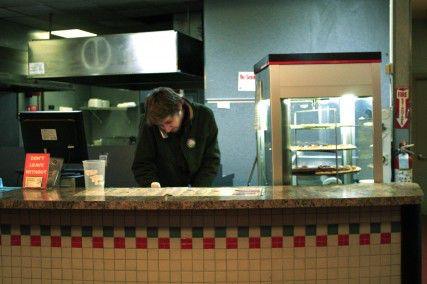 After Giga's Pizza, located at 27 Buswell St. on Boston University's South Campus, was forced to shut down Sunday, students said they both rued the loss and praised Giga's for its service and convenience.
Owner Theodoros Rexho said his landlord informed him Giga's monthly rent, previously $4,000 per month, would now be $9,000 per month, a 225 percent markup. The unforeseen hike forced Giga's to close down after Sunday's business.
Well-known around campus for its pizza and frozen yogurt, the restaurant was often filled to capacity with students after hours, said Julia Buerkle, a College of Fine Arts sophomore.
"It [Giga's closing] is really upsetting," she said. "They're the only place anywhere in the neighborhood who actually stays open late enough to actually cater to people who go here."
Rexho said he is in negotiations with other landlords about the relocation of Giga's to Brookline, Allston or Cambridge. However, no paperwork has been signed yet.
Buerkle, a South Campus resident, said she frequently visited Giga's because it was located within steps of her room. As a CFA student, she often works late hours and often would visit Giga's afterwards to grab a late-night meal.
"They have a really wide range of food — you can get breakfast pretty much any time you want," she said. "And they have really good [frozen yogurt] … You can have Kit Kats smashed into it."
The staff at Giga's was always accommodating and tolerant of students during busy, late-night hours, Buerkle said.
"They're really nice," she said. "They're very understanding of the situation where everyone is up really late and they are very tolerant of people who are occasionally not super polite in there as well."
College of Arts and Sciences junior Sean Slattery said he was sad to see South Campus lose such a popular spot.
"To be honest, it [Giga's] gave South an identity, so that's what kind of sucks about it [closing]," he said. "Anyone that lives in South knows Giga's and everyone ate there. You would go there to hang out with friends."
Ryan Chernin, a College of Communication sophomore, said Giga's was a staple for late-night dining, especially for BU students who live in South Campus.
"I liked that they always had food ready so if you just needed to grab something substantial more than a protein bar you could just stop at Giga's and do whatever you had to do," Chernin said. "I always would go there before rehearsals and stuff like that."
Chernin said he would consider frequenting Giga's if it reopened in a new location.
"I'd definitely check it out once they opened up again somewhere else and see if they changed anything, if there was a nicer place or they and better pizza or different recipes or better ingredients," Chernin said. "If it was kind of the same old stuff and not in south and it was farther away then I probably wouldn't go anymore or at least less frequently if I did."
Kunal Kaistha, a College of Arts and Sciences freshman, said Giga's management recognized him and his roommates, who often went in for calzones.
"They recognize our faces and they ask, 'you guys want a calzone today?' or if we're getting slices," he said. "There's definitely a good relationship between staff and customers."
Rexho said he is thankful for both the financial and psychological support he has received from BU students over the years and in the wake of the news of Giga's closing. He said he liked getting to know students on a non-academic, personal level.
"I think BU does a good job of choosing their students over there," he said. "They know what they're doing."