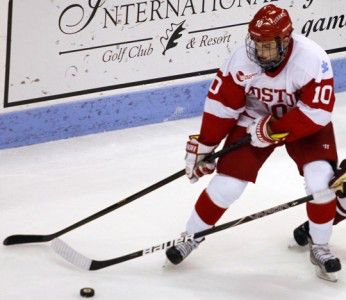 Given the number of momentum swings and lead changes at Agganis Arena Saturday, a 3–3 tie could seem like an unsatisfying outcome for the Boston University men's hockey team against Providence College.
BU (13–9–1, 10–6–1 Hockey East) coach Jack Parker didn't see it that way, though.
"The best part of that game was the fact that they came right out and scored in the third, and we had to come back twice to get a tie out of it," Parker said.
BU outshot Providence (10–10–4, 8–6–3 HE) 31–29 despite lagging behind the Friars for much of the game. Freshman goalie Matt O'Connor, while still not quite playing in his early-season form, held off the Friars late in the game to keep them from leaving Boston with two points.
BU's entire third line had a hand in the first goal of the game late in the first period. Freshman forward Sam Kurker found his classmate Matt Lane with a well-placed cross-ice pass in the neutral zone, and Lane carried it down the wing.
He shot low on Providence goalie Jon Gillies, producing a rebound that came right to senior center Ben Rosen as he crashed the net and knocked in his third goal of the year.
The lead was short-lived. Less than two minutes later, senior defenseman Sean Escobedo went to the box for interference, and 11 seconds into the power play, PC defenseman Myles Harvey fired a low slap shot that found its way through O'Connor's five-hole.
After a series of careless passes in the first — on two, BU gave the puck away at its defensive blue line only to catch a lucky break when Providence went offside — the miscues finally hurt the Terriers early in the second.
Kurker lost the puck at BU's blue line and PC forward Steven McParland picked his pocket, drove in on net and stuffed the puck past O'Connor without much difficulty.
"Kurker had a bad turnover once, but it was good for a freshman to have that play and not hang his head," Parker said. "He just kept playing hard."
Midway through the period, freshman defenseman Ahti Oksanen was rocked by a big hit along the boards near Providence's bench. He skated off gingerly, although he returned a few minutes later. Shortly afterward, with a Friar already in the box, freshman defenseman Matt Grzelcyk was knocked into the boards by PC forward Noel Acciari. Acciari went to the box for elbowing.
BU tied it up in the waning seconds of the 5-on-3. As Grzelcyk and sophomore defenseman Alexx Privitera played catch and the impatient crowd started calling for them to shoot, Grzelcyk finally fed Nieto in the corner, and he snapped a one-timer into the top right of the net before Gillies could get over.
"We heard it," Nieto said of the crowd with a smile. "
Providence grabbed the lead back 39 seconds into the third on a goal by sophomore wing Shane Luke. Luke and his center, Ross Mauermann, were alone coming into BU's zone, and Luke snapped a high shot past O'Connor for the 3–2 lead.
Then a strange situation worked in the Terriers' favor. As his line worked the puck around the zone, senior wing Ryan Santana was pinned against the Providence crossbar by Friar defenseman Steven Shamanski. As freshman center Danny O'Regan wound around the net and stuffed the puck past Gillies, Santana couldn't get out of the crease in time, so the play was originally called no goal.
After review, though, the goal counted to tie the game 3–3.
Parker said he didn't ask for an explanation after the play was ruled a goal, but that the original reason for waving it off had been that the refs thought Santana was in the crease.
"I just told the ref, you have to take a look at it, because I was being pushed into the net," Santana said. "Yeah, the net might've been tipped off a little bit — if it was at all, I don't think it was — I was just saying he's got to take a look at it."
In overtime, BU outshot Providence 6–0. Its best chance came late on a close-range shot from sophomore forward Cason Hohmann, but Gillies stood firm to earn his team the tie.
The Terriers walked away with three out of four possible points on the weekend, separating themselves from the Friars in the standings by two points and taking back sole possession of third place.
Both Parker and Providence coach Nate Leaman called Saturday's match a "terrific college hockey game." Parker was especially impressed that his team did it while missing sophomore wing Evan Rodrigues, who hurt his hand on Friday but could return as early as next Friday, and junior defenseman Garrett Noonan, who was serving a two-game suspension.
"We survived with a couple of important guys out of the lineup, and everybody chipped in and stepped up," Parker said.