Buying books can be a long and grueling process. To the book aficionado, there is nothing better than wandering around the shelves of a well-stocked bookstore. One might know exactly what to look for, but many enjoy perusing around stores to see what they might find. Independent bookstores cater to this sort of browsing routine and keep the love for books alive.
Creating an identity as an independent bookstore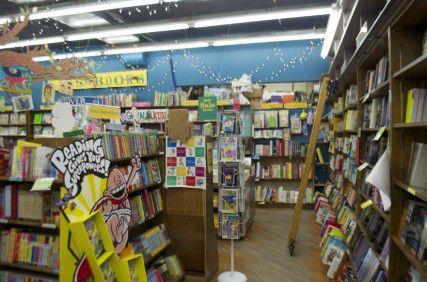 "There aren't many [independent bookstores] left," said Dana Brigham, store manager and co-owner of the Brookline Booksmith. "What makes any of us stand out is that we each have our own personality, style selection (both physically and what we carry) and who we hire. Each one is quite unique."
This unique style is something that draws in customers and creates an atmosphere that families, children and students alike all want to be part of. The warmth (literal and figurative) in the store is not the only incentive for stopping by, and any book lover can see why.
"The store has character to it. If you walk into it, you know that we're about books," said Jeff Mayersohn, owner of Harvard Book Store.
"A lot of stores facing financial challenges have introduced non-book items and I have no problem with that," Mayersohn said. "I think it's more important that the bookstore survives, and if they do it by selling things other than books, that's fine. We've chosen to take a different path where the book is still our main focus."
As for the Brattle Book Shop, the focus is on used books and keeping the selection fresh. Kenneth Gloss, proprietor of the Brattle Book Shop, said restocking the shop keeps the bookstore from getting boring and keeps it alive.
"Used bookstores have always been independent," Gloss said. "What makes them stand out is what you have in stock."
The Brattle Book Shop carries books ranging in price from $1 to $100,000. Don't worry, the pricey books are located in the Rare Book Room and look like unique historical artifacts.
One different aspect of the Brattle Book Shop that many independent bookstores don't have, is an outside lot filled with discounted books. Gloss said, with this feature, Brattle Book Shop draws in anyone from tourists, to students, to business people.
Discounted books are a feature that both Brookline Booksmith and Harvard Book Store have in the basement of their stores, but if a specific book can't be found, these independent bookstores have also invested in online websites.
Harvard Book Store has taken it a step further and can actually publish a book within five minutes and deliver the same day with bicycle shipping.
"We bought a machine that manufactures books," Mayersohn said. "There are only a small number of bookstores in the world that has these. If we don't have a book on our shelves, we can print it."
Competing with chain stores
Chain bookstores like Barnes and Noble have locations everywhere, but independent bookstores have something different.
"We have a place where people like to come," Brigham said. "We have a great staff. You can order from us online, we sell eBook readers and eBooks, so it's not so much a matter of competition as much as finding your niche."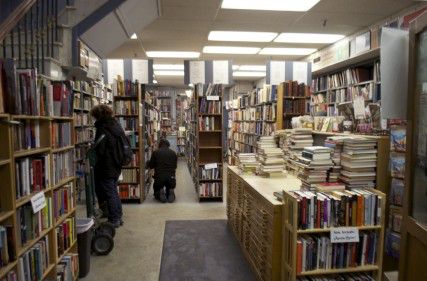 And while Barnes and Noble is a big chain bookstore, it's just another bookstore that independent bookstores compete with. Amazon has become the head honcho.
"If you look at the way sales have trended for independent bookstores or the number of independent bookstores, Amazon has certainly hurt us, but that's the reality we have to face," Mayersohn said.
"We have to figure out how to compete there. There are things that we do that Amazon can't do. We create a community around our bookstore," he added.
Online stores may offer discount prices, but independent stores offer more options for shop browsers.
"Online works very well if you know exactly what you want," Gloss said. "When you come into a bookstore and browse, sometimes you're looking in a section and you realize the book you've never heard of is the book you really need."
The art of browsing has become a means to discovering what may just be the perfect book
"[As a customer before owning the Harvard Book Store], I would find some book I hadn't noticed before and I absolutely had to have," said Mayersohn. "Now I'm in the store everyday, and I still find some book that I had no idea it existed and I absolutely have to have."
Customers keep coming back for more
Some stores such as Brookline Booksmith has made students into regular customers by hosting activities.
"Brookline Booksmith is my favorite," said Stefanie Dominik, a College of Arts and Sciences sophomore.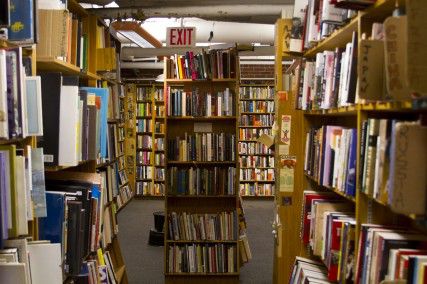 Dominik said she discovered the independent bookstore through one of its many book and poetry readings.
"You can find obscure things that you can't find at Barnes and Noble," she said. "It's fun to browse and find a random book and see if it's interesting."
"I find independent bookstores cozy. This is the first one [I've been to], and I like it because finding books [at the Harvard Book Store] is like fishing," said Hassan Charafededine, a tourist from Lebanon. "I'm discovering something new."
Bookstores allow you to be physically immersed by books that are stacked from floor to the ceiling. The music and creaky floorboards create a home-like feel and the staff is friendly, sporting as much personality as the bookstore itself.
"I definitely prefer independent bookstores over chains," said Olivia Vera, a freshman at Boston College. "They usually have just as big a selection as the big chains, plus they have a unique charm that you can't get in the sterile big stores."
It's the experience of shopping in a bookstore that makes buyers want to keep coming back. When you can be embraced like this in an independent bookstore, it's incomparable to shopping online.
"It's not corporate, it's a family-run business," Brigham said. "There's an element of discovery and surprise that has always been a part of our deal."
Gloss said he is not perturbed by the unpredictable future of his bookstore.
"For as long as I plan on doing this, I think our business will be fine," he said. "How the world will change in a few years, is hard to tell."