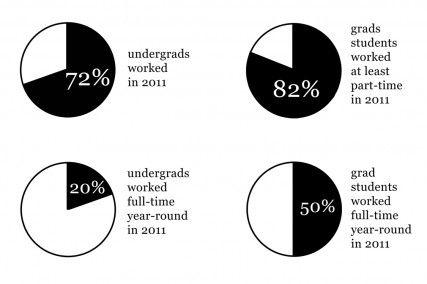 The results of a study finding an increase in the number of full-time students who are also employed can be attributed to a desire to minimize loans and debts, BU officials said.
"If you've already invested in schooling, you may want to pay off the rest of the investments," said Kevin Lang, an economics professor. "Students feel they need to limit their borrowing and therefore earn more of the tuition. And maybe since the labor market is not all that good, they're getting less support from their parents."
More college students are working jobs while enrolled as full-times students in 2012 than in 2011, according to a study released by the U.S. Census Bureau Thursday.
Of the 19.7 million college students in the U.S., 72 percent work at least a part-time job, the study stated. Among these students, 20 percent worked full-time, year-round jobs.
"A lot of people choose to stay in school to avoid the bad labor market," Lang said. "It may now be becoming more feasible to get part-time employment."
Bethany Sheldon, Student Job Service manager at BU's Student Employment Office, said students must finance a variety of expenses, including tuition and personal spending money. A number of students also want to gain work experience.
"Because BU is located in a city, there are numerous businesses, alumni employers and private citizens who wish to hire students, and there are always new job opportunities available," Sheldon said.
In Massachusetts, fewer than 15 percent of undergraduates worked full-time, year-round, according to the study. Half of the graduate students worked full-time, while 82 percent worked at least part time.
"The Student Employment Job Service has a solid base of repeat employers and our reputation within the Boston community has new employers listing with us on a consistent basis," Sheldon said. "Last year, employers posted 5,600 jobs with our service."
About 10,000 BU students per year — undergraduate and graduate — are employed in some capacity on campus, Sheldon said. This number has been steady for the past several years.
"Along with this financial crisis, a lot of people have lost a lot of efforts, lost savings and at the same time, more people are going back to school, although they maybe weren't planning on doing so," said Johannes Schmieder, an economics professor.
Schmieder said the increase in students balancing jobs and a full-time education can be attributed to the recession and failing job market.
"If it is a trend, part of the reason might be that schooling is getting so much more expensive," he said. "I know that trend has been there for a long time, and for a long time tuition has grown much faster than the general GDP has been increasing."
Emma Rosenfeld, a College of Arts and Sciences junior, said students are working more to get head start on paying off student debt.
"Another reason is for the connections later on," Rosenfeld said. "And then, also, if your job correlates to your major or what you want to do later in life, it's great to get that sort of practice."
Rosenfeld said the constant emphasis on the failing economy in the past ten years is forcing students to get a job sooner in case the job market crashes again. She said she thinks students in Boston do not get jobs as often to pay for their recreational activities in the city.
"Some people are trying to save up for loans already," said Grace O'Connor, a College of General Studies sophomore. "I go shopping a lot and that's why I need to work."
O'Connor said she worked throughout last semester to finance her time at BU.
Nosakhare Obaseki, a CAS sophomore, said the city environment prompts students to get a job because the lifestyle is more expensive than one provided by colleges in rural areas.
"As a college student you want money in your pocket," Obaseki said. "There are more areas you can go shopping in, so you end up spending more money."