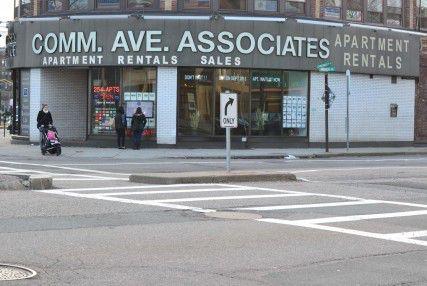 For college students looking to leave campus and rent an apartment, things are getting harder, for over the past year, the overall real estate market in Boston for buying has improved, but rent prices are rising, creating a dilemma for students.
Jeff Kaufman, 27, a programmer at Google, mocked up a map of Boston rent prices throughout the city. Although downtown Boston has the highest prices in the city — costing about $1800 a month per bedroom — areas around Boston University, Boston College, Massachusetts Institute of Technology and other universities can cost more than $1200 per month.
"I created the map because I wanted to get an idea of what the different apartment prices were in different parts of the city," Kauffman said "I was looking for an apartment and didn't know the areas."
Timothy Warren Jr., CEO of The Warren Group, a company that distributes real estate and financial information in New England, said the real estate market is growing again.
"I would characterize 2012 as the year of robust recovery in the real estate market," he said in a statement. "It is clear we have turned the corner and are gaining ground rapidly. I contrast the 18 percent gain last year with the decline of 6 percent in 2011."
Buyers and renters in Boston are seeing a changing market, but it is hard to predict where it may go, Mark Nemes, rental manager for Comm. Ave. Associates, said.
"This year we can see that for September, apartment prices are up about 10 percent from last year, and I do see it continuing for the rest of the year," Nemes said. "I don't know about next year, it's always anyone's guess. You don't know what'll happen with the economy and things like that. But definitely for this next year we see rents increasing again."
The rent hike — about 10 percent last year as well as this year, is due to the number of people renting, Nemes said.
"It definitely is the demand," he said. "Boston has had a good job market in the last few years, and there are a lot more students [and] international students that are coming to Boston for school."
Comm. Ave. Associates is located on the corner of Commonwealth Avenue and Brighton Avenue. As a result, Nemes said the company sees many more renters because of its proximity to Boston University's campus.
"Around here you get a lot of transient-type clients like students or people working their first jobs," he said.  "You know students move around three or four times in their four-year college career. When people buy a condo, you buy a condo once, so there are definitely morerenters around here."
The high number of students might also be a factor of the low prices in the Allston area, which is still the cheapest for students close to the city, Nemes said.
Renting is not the only option. Marc Russo, a broker at Atlas Properties located on Fairfield Street off of Newbury Street, said buying is a better choice right now.
"The sales prices haven't gone up that much in the past two years, and the rental prices have," Russo said. "The interest rates are low, sopeople then to buy rather than rent.
Russo predicts that rent prices will continue to increase, especially in areas heavily populated by students.
"I don't know if the rents are going to keep going, I imagine they would go up a bit this year again," he said. "They went up quite a bi last year, especially toward the end of the rental season.
College-campus-area rent is going to go up in general, because there aren't going to be people buying over there."
Kathleen Ford, a senior at Emerson College who lives in Allston, said she is frustrated with the continuing increase in rent prices, but not surprised.
"I guess that's the price you pay living in a city, rent's just going to be more expensive here," Ford said. "And with all the young people in the city looking for affordable rent, I guess it can get pretty competitive."
Nemes also said it is a sellers market.
"The sales market is definitely hot right now," Nemes said. "If you're looking for a two-bedroom condo in Allston right now there is only one on the market. And then when one does come on the market, it just seems like it's not there very long."
Condos are of particular interest to people as buying becomes more popular, Warren said in the statement.
"Condominiums have been very popular which is probably a function of those rent prices being so high and interest rates being low," Warren said. "People do the math and realize they can get a condo in or close to the city for a competitive price."