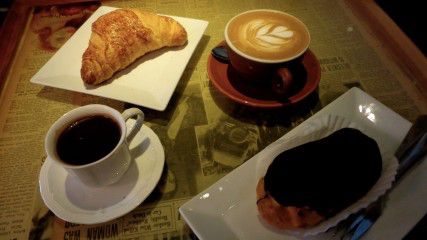 Winter is upon us, Commonwealth Avenue has turned into a gigantic wind tunnel, and our lust for coffee and lattes has increased. If you need a quick shot of something warm in between classes, then Starbucks is your place to go. But if you want to escape, perhaps to some place cozy and toasty, take the T to Boylston, and make your way to the Thinking Cup.
Right on the outskirts of the Boston Common, the Thinking Cup is a crowded little coffeeshop, almost set back in time. The lack of Wi-Fi and cellphone reception makes you wonder if this is intentional. Low ceilings, dim lights and brick walls give it an old-fashioned, European aura, with Louis Armstrong's trumpet quietly accompanying the hum of the surrounding conversations. Written on chalkboard walls behind the counter, the menu includes coffee, sandwiches and pastries. The barista will help you pick something yummy if you can't make up your mind, but for us, he suggested the éclairs and croissants, the most popular items.
If you're more of a sweet tooth, go with a croissant with the French hot chocolate. In the 18th century, the French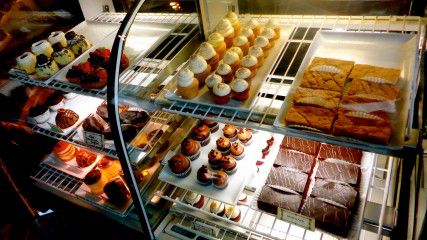 aristocracy favored this thick, rich dark chocolate drink, with good reason — it is truly exquisite. (And for an amplified experience, dip pieces of the buttery croissant in the thick hot chocolate.)
The éclair was glazed in chocolate and filled with volumes of vanilla bean custard — a smooth yellow cream that enlivened every bite.
To complement our hazelnut latte — a specialty made with roasted, hand-ground hazelnuts, complete with swirls of latte art in the foam — we went with the colorful French macarons. Macarons, not to be confused with macaroons, are sweet meringue-based pastries filled with ganache — perfect for tiny bites. We went for the salted caramel macaron, and made the right choice; the subtle saltiness of the caramel complemented the softly sweetened hazelnut latte perfectly.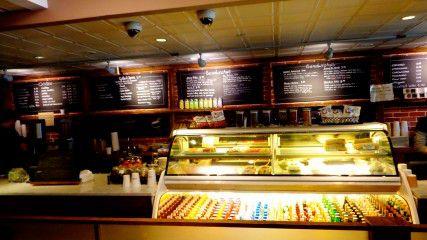 The popular coffee shop is almost always crowded, sometimes making it difficult to find a place to sit, especially with larger parties. Fortunately, many people come and go quickly, so keep an eye out for open seats.
Easily accessible from campus, but far enough away to feel like an escape, the Thinking Cup is a delicious alternative place to relax, to momentarily forget one's worries and obligations, and to enjoy great coffee and pastries with a friend.
The Thinking Cup is located at 165 Tremont St, and during the winter is open from 7 a.m. to 10 p.m. Monday through Wednesday and from 7 a.m. to 11 p.m. Thursday through Sunday.