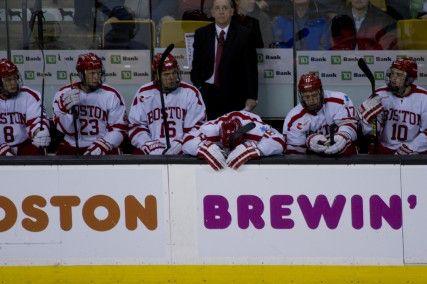 The No. 11/13 Boston University men's hockey team made history Monday night, but in a way the Terriers (13–11–1, 10–7–1 Hockey East) least desired.
BU fell, 3–2, to Northeastern University at TD Garden in the semifinals of the 61st Annual Beanpot, making the Terriers' seniors the first class since 1965 to go their entire BU career without winning the four-team tournament.
"It's pretty devastating," said senior captain Wade Megan, tears welling up in his eyes. "I just wanted this so bad, for my teammates, my classmates, the school and the BU community."
The Class of 2013's Beanpot experience was certainly a rough one. After falling in the championship game to Boston College as freshmen in 2010, they got topped by the Eagles in overtime in the semifinals the next year. They then lost a heartbreaker — again to BC, and again in overtime — in the championship of their junior year.
This time, the Huskies (8–13–3, 4–11–3 Hockey East) and freshman forward Kevin Roy did them in. Roy netted a goal per period for a hat trick in his Beanpot debut, giving him a team-high 15 on the season.
The Terriers, although flashy at times, did not do themselves any favors. Marred by an inconsistent effort throughout the 60 minutes, just as they have been for most of their games since Christmas, they couldn't take advantage of the young Northeastern defensive corps, and let the Husky freshman sensation beat them too many times.
"I feel badly for … my seniors but especially my captain here, Wade, who's given us an unbelievable career and won't get a Beanpot," said BU coach Jack Parker. "A real disappointing loss for us. We're in a bad frame of mind here, a bad stage of the season for us … We weren't unfortunate tonight. Northeastern was the better team."
Northeastern got the scoring started at 2:09 in the first when, after Megan turned the puck over in the neutral zone, Roy drove to the crease and stuffed it through freshman goaltender Matt O'Connor's pad.
The Terriers did not take long to strike back, with Needham native and freshman forward Danny O'Regan doing the honors. The second line of O'Regan, Megan and sophomore left wing Evan Rodrigues connected on a series of crisp passes before Megan centered to O'Regan, who one-timed it by Husky goalie Chris Rawlings.
For part of the second frame, BU looked poised to take control of the game. It did a much better job of possessing the puck in Northeastern's zone, and O'Connor came up with a big pad save on a Roy shot from point-blank range.
It was all for naught, though, as another BU defensive miscue led to another NU goal. O'Connor went to play the puck behind his net and passed to senior forward Ben Rosen along the red line.
Rosen sent the puck flying through the crease, and Roy was there to tap it into an empty net.
In the second half of the final period, BU again looked positioned to tie things up. The Terriers had a number of chances and were outshooting the Huskies by a healthy margin, yet had nothing to show for it on the scoreboard.
A series of lengthy possessions in BU's offensive end highlighted the frame. However, as soon as Northeastern got a chance to take it the other way, BU paid for it.
Roy made it 3–1 at 15:22 in the third when he collected a bouncer by the red line in BU's zone. He swatted at it with barely enough of an angle to sneak it between O'Connor and the far post to extend Northeastern's lead.
"Obviously Kevin Roy is a heck of a player," Parker said. "He gets a hat trick against us — picks one out of midair."
With O'Connor pulled, BU fought to within a goal when junior forward Sahir Gill collected freshman defenseman Matt Grzelcyk's rebound. Grzelcyk had carried the puck through the Husky defense before NU goalie Chris Rawlings stopped his shot.
"I've seen us in bigger games than this get two goals in the last minute of the game, so I was hoping we were going to be able to do it again," Parker said, referencing the 2009 national championship. "You always think you have a chance."
But BU couldn't find another tally and was forced to put O'Connor back in net for the final 14.1 seconds after a Terrier high stick brought the faceoff back to their zone.
O'Connor wrapped up with 23 saves, outdone by his counterpart Rawlings' 32.
A perfect 3-for-3 BU penalty kill was overshadowed by a weak showing on the other side of special teams, a miserable 0-for-6 on the power play including a blown 5-on-3 opportunity for 1:57.
At the final buzzer, as the victorious Huskies mobbed Rawlings, the Terriers milled about aimlessly.
For Megan, Rosen, forward Ryan Santana and defenseman Sean Escobedo — the final four members of their original freshman class — it was another Beanpot letdown, another night leaving them wondering what could have been.
What if a pair of turnovers had not led to goals? What if the Terriers had converted on just one of a number of scoring chances? What would happen, if BU had pulled through, one week later against Boston College in front of a packed house at the Garden?
That, they will never know. What they do know, though, is that it is another disappointment that brings them dangerously close to not winning a single trophy as Terriers.
"We've got a lot of the season left. We need to not feel sorry for ourselves," a glassy-eyed Megan said. "Just turn the page."