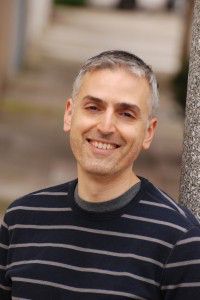 Boston University alumnus Chris Delyani said he hopes his new novel exploring relationships, marriage and society in San Francisco's gay community will help normalize gay marriage and work against Proposition 8.
Delyani, a 1990 College of Communication graduate, said his experiences in San Francisco as a gay man shaped his novel, titled You Are Here, and its message.
"What really inspired me was that it's true that San Francisco is great, but it's a city,
so there's good here and there's bad here," he said. "It's a bit of a dark story but there's possible happiness of finding a friend, finding a partner in this beautiful place, but at the same time, there's a lot of danger."
Delyani said he originally wrote You Are Here in the 1990s, but experienced difficulty when trying get it published.
"I wrote a first draft of You Are Here and actually managed to shop it around to publishers, all of which shot it down, and while it was being passed around, that's when I started The Love Thing," he said.
Delyani wrote The Love Thing, a more upbeat novel than You Are Here, and, while advertising the new novel to publishers, honed his original book using his newfound perspective on life.
"I added a lot of layers to it," he said. "I was a kid when I started it, and then a lot older when I finished it, and it brought a lot of depth to characters that were older."
Proposition 8, passed in 2008, repealed California's original decision to legalize gay marriage. In 2005, California had become the second state in the U.S. to allow gay marriage.
Delyani said his personal experiences provided him with new respect for those who do fight for marriage equality.
While at BU in 1988, Delyani attended an LGBTQ gathering to write an article for The Daily Free Press — of which he was a member in 1986 — but felt too uncomfortable to stay for the whole meeting, he said.
Some time after that occurrence he became involved with the Boston Alliance of Gay, Lesbian, Bisexual and Transgender Youth, Delyani said.
Delyani graduated BU in 1990 with a dual degree in journalism and political science. Two years later, he worked for the Boston Phoenix until he realized he wanted to pursue creative writing.
His lack of confidence during his college years is what he believes defined his later change from journalism to creative writing, Delyani said.
After moving to San Francisco in 1995, Delyani and his husband Dan began dating, he said.
Delyani said he came out to his parents when he and Dan's relationship grew serious.
"I don't think it came as a tremendous surprise to anyone," he said. "They didn't really criticize me for it — they mostly just had the worries of any parent. They just wanted to know I was okay."
He married Dan in 2008, just over a month before Proposition 8 banned gay marriage in California. He campaigned and stood with the gay community in outrage at the proposition.
"As I was holding my sign up I kept thinking how ridiculous it was that I actually had to campaign for a right that straight people don't even have to worry about," he said. "It felt really personal. It's all about bigotry and discrimination."
Delyani said he no longer campaigns for the right to a homosexual marriage, but hopes his works help normalize the perspective of the gay community and marriage within it.
COM professor Robert Zelnick said the public's view on gay marriage might drive a shift in legislation.
"It isn't what's considered extreme in society anymore," Zelnick said. "There's already a normalization of homosexual unions and marriages because it's too big a part of the culture now to outlaw it. It doesn't make sense to outlaw something that doesn't even raise eyebrows anymore."
Delyani's sister-in-law, Joyce Millman, who also wrote for The Daily Free Press in the 1970s, said she is amazed by Delyani's commitment.
"It's a little surreal for me because I've known him since he was six years old, so needless to say I'm very proud of him," she said. "… When he started writing fiction, it was surprising, but I admire him so much for the self discipline that he has … I am delighted that he's had the success that he's had."