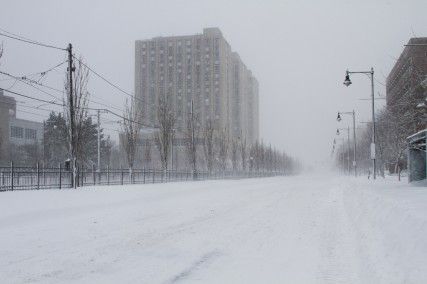 After one of the worst blizzards in Boston's history, the city continues to recover in the aftermath of Winter Storm Nemo, which hit the Northeast Friday afternoon.
"Our number one priority is getting to the side streets," Boston Mayor Thomas Menino said in a press release Sunday. "Residents have been very patient as we work to recover from the fifth largest snow storm to ever hit the City of Boston."
Winter Storm Nemo hit the Northeast Friday and continued until Saturday, bringing about 24.9 inches of snow to the Boston area.
Boston schools are closed Monday and the Massachusetts Bay Transportation Authority will resume normal services Monday.
"We are focused on getting service back to our customers as quickly as is safely possible," said Kelly Smith, deputy press secretary for the MBTA, in an email.
"We have crews working around the clock to make necessary repairs and tend to clearing, but we'll only reopen service when it is absolutely safe to do so. Our main goal is restoring service for Monday morning's commute."
MBTA services closed Friday at about 3:30 p.m. and remained closed until the MBTA announced Sunday there would be limited subway and key bus routes around 2:00 p.m. Sunday, according to the MBTA website.
The City of Boston had no power outages, according to the National Grid outage map Sunday. Still, on Sunday, more than 300,000 homes and businesses reported having no power.
Michael Verseckes, a Massachusetts Department of Transportation spokesman, said everyone was in full force trying to clear the roads.
"We are still clearing out some of the major roadways," he said. "The post-storm shoveling is still ongoing and it will take a little time. We still have crews out there."
Verseckes said in Massachusetts, they called in 3,500 plows and trucks to clear the snow off roadways and 378 of them were in Boston.
Mass. Gov. Deval Patrick issued a road ban Friday asking that all vehicles be off the roads by 4:00 p.m. The ban was lifted Sunday at about 4:00 p.m.
Steve MacDonald, Boston Fire Department spokesman, said there were two fires and one death caused by the storm.
An electrical fire broke out in West End Friday night, leaving more than 460 condominiums without power and heat during the height of the storm. Saturday morning in Roxbury, an unattended candle caused $200,000 in damage to a home, MacDonald said.
A 12 year-old boy died Saturday due to carbon monoxide poisoning in a vehicle when the exhaust system failed to vent out of a car. The child went into cardiac arrest and neighbors revived him with CPR before Boston Emergency Medical Services took him. He was later pronounced dead at the hospital, MacDonald said.
Menino, in a press release Saturday, said public safety is the city's first priority and people should use caution when cleaning up after the storm.
"The news of this tragic accident is a sad reminder that the danger of this storm is not over," Menino said in the release. "Please take care and use caution when cleaning up and getting back out on the streets. Our hearts go out to that family and their friends who are learning of this tremendously sad accident."
MacDonald said there is still a lot of work to be done before Boston is back in full working order.
"There are still a lot of calls we receive for wires down or tree limbs down," he said. "We are keeping 80 or so firefighters on to deal with the aftermath. We are doing what we can to keep people safe."