The specialty Greek organizations on Boston University's campus have seen a rise in interest from the BU community and therefore, higher recruitment numbers, student officials said.
Katharine Volpe, a School of Hospitality Administration senior, is the president of Omega Phi Alpha, a community service sorority with goals of making a difference on campus and in the community.
"We do at least two to three service projects a week, and each girl is required to do at least 20 hours of community service a semester — which really isn't that hard," Volpe said. "We do a lot of sisterhood activities, combining with other organizations on campus."
With the increased interest, recruitment has become more competitive and Volpe said it is important for prospective sisters to make an impression.
"Since we're a community service sorority, they have to show a great interest in doing community service — like doing a lot of community service in the past — and other than that we choose the girls who we see ourselves getting along with," she said.
While Omega Phi Alpha attracts members who want to do community service, Delta Sigma Pi, a co-ed business fraternity exclusive to business, economics and hospitality majors, focuses on networking.
Taylor Reustle, Delta Sigma Pi president and a School of Management junior, said despite the small size of BU's chapter, Delta Sigma Pi has seen a constant, steady increase in members.
"We noticed this semester that there's a larger retention rate coming from info sessions to actual recruitment events," she said. "So we've seen more people come out to info sessions, but more people are actually staying and attending all our recruitment events, and then applying and coming out for interviews."
Despite the rise in students rushing, the size of the chapter has remained relatively constant, Reustle said.
"We have a pretty small intimate chapter of around 70 members, and we do recruit every semester and let in around 15 to 20 recruits to go through our pledging process," said Reustle. "But it has always remained pretty constant through the years."
Why choose specialty Greek Life
"Coming in as a freshman, I wasn't sure what to get involved with, so going through the recruitment events, I met a lot of great people and decided that it was an association that I wanted to be a part of," Reustle said. "But most people join to further their understanding of a professional lifestyle, to make a closer-knit community within the School of Management and to further their networking abilities."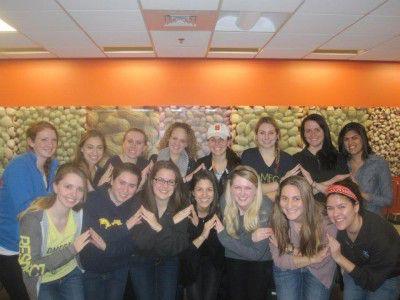 Volpe, one of the co-founders of Omega Phi Alpha, said she created the group as a way to participate in an alternative type of Greek life.
"One of the reasons why we started Omega Phi Alpha was because … we wanted to make more of a change on campus and in our community," she said.
This drive to make a difference is what inspired Volpe and the other founders to create her own organization, which is how Omega Phi Alpha started, she said.
"We had the idea of maybe starting a service-oriented sorority just because service played a big role in our lives from the time we were little, so we investigated a little more," Volpe said. "Other people join because you get a really great sense of community. All of the other organizations help one another. It's just a really good environment to be in."
Members' takes
Members of both organizations said that they initially wanted to get involved on campus and specialty Greek life gave them that opportunity.
Randi Fuchs, a College of Communications sophomore and an Omega Phi Alpha member, said she was initially skeptical about joining a Greek organization.
"When I first came to BU I was really on the fence about joining a sorority, I didn't really want to give into the whole label of being a sorority girl," she said.
However, Fuchs said Omega Phi Alpha stood out from the other social organizations, encouraging her to join.
"I decided to pursue being in Omega Phi Alpha, which was more low key and more down to earth," Fuchs said. "It was more so of a balance of what I wanted. I did it originally just to be a part of something because BU is very big. I also wanted to keep my schedule busy with things to do, including community service."
Kira Gallagher, an SMG sophomore and a member of Delta Sigma Pi, said she was looking for a different type of sorority.
"I wanted to get more involved on campus, and I wasn't really interested in joining a social sorority," Gallagher said. "Everyone seemed really awesome. I liked their goals and I liked how they all wanted the same thing out of it, so I decided to pledge."
In addition to being a source for activities, members said Greek life also offered a good way to make connections with other BU students and make friends.
"In general, though, I think that people are looking for a way to connect with like-minded students," Gallagher said. "I know a lot of people — especially in a sorority — like a lot of the same things."
Fuchs said Omega Phi Alpha offers members the opportunity to be a part of something bigger.
"It has to do a lot with the feeling of being a part of something," she said. "I've been with the sorority for a year. I feel like I've met a lot of girls and it's helped me expand my network of people and helped me get involved on campus, so I've really enjoyed it.
Gallagher said the unique nature of Delta Sigma Pi within the Greek system is what makes it special.
"I love it," she said. "It's definitely different from a social sorority or fraternity. It's girls and guys, so it's a different environment, but it's great. It's very career oriented, so we have social events where it's us just hanging out."
Gallagher said that there are social aspects as well as professional events in Delta Sigma Pi.
"We go ice skating, or we go to a sporting event that another brother is in," she said. "But then there's also presentations that give you a leg up in the business field. It's gotten me more involved in SMG, which is something I wanted. It's gotten me connected with a lot of people who like the same things, and I've made a lot of great friends."
With the increased interest in Greek life, Reustle said there are great opportunities ahead for her own group, as well as for others in the BU Greek community.
"We can only grow stronger from here," she said. "We would love to have closer affiliations with other Greek life, both social, community service and professional on campus. I see it as a network of students who really are striving to collaborate with one another, not just for the betterment of themselves, but also for their peers and the university itself."
CORRECTION: In the original article it was implied that Volpe was the sole creator of the BU  Omega Phi Alpha chapter, she was in fact a co-founder. The story has been changed to reflect this.